Local Content Is Good Business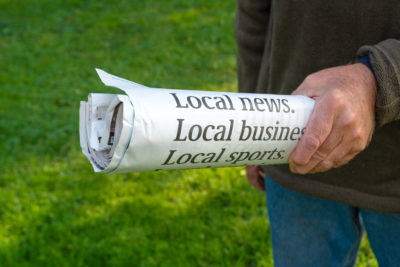 Throughout history, residents of smaller communities have relied on local tribunes, gazettes, chronicles, heralds, and posts for credible and pertinent news and information. Sadly, in the past 15 years, more than ¼ of local newspapers have closed or merged with larger media outlets. The disappearance of this type of publication has left many inner-city, suburban, and rural communities high and dry in what is known as news deserts. News deserts are areas with limited access to trusted news and information.
In 2012, the FCC defined eight topics they consider to be critical information needs for all American citizens:
Emergencies and Public Safety
Health
Education
Transportation
Environment and Planning
Economic Development
Civic Life
Political Life
Struggling newspapers have been bought out and gutted by hedge funds or merged with larger media companies. The staff is cut severely, and newsrooms lose their capacity to address local needs meaningfully and thoroughly. A community can lose its identity and knowledge of self without local journalists providing a mirror to reflect. Integrity suffers, and trust is lost without local perspectives. This is where a breakdown in two of the pillars of democracy can be seen, representation and access to information. A healthy democracy is one that sees to it that all citizens are represented and presented with the information that they need to make responsible decisions.