What Is An "Annuity Laddering" And How Can It Work For You
By Jerry Yu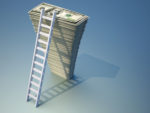 It's genuinely shocking when I run across people already in retirement or just a few years away from retirement who have 70% or more of their money on Wall Street. Substantial investment in equities may be an excellent move for someone in the accumulation phase of their financial life. However, for seniors, this strategy doesn't usually have a happy ending. Chasing returns is understandable, though, especially in the past few years' brutal interest-rate environments. Fortunately, there is a widely-accepted and proven strategy that can help you take advantage of interest rates that might increase in the next few years.
What is an annuity ladder, and how does it work?
Depending on the phase of a person's financial life, an annuity ladder can be used either for wealth creation or as a method of preserving one's wealth. Laddering involves purchasing immediate annuities over a period to create guaranteed income while at the same time minimizing interest-rate risk. It doesn't make sense to lock in rates for long periods when interest rates are low. Even economists cannot predict with any degree of accuracy where interest rates will wind up. Building an annuity ladder allows you to buffer against the risk of low returns.