Uncle Sam wants you and your annuity
The Treasury Department announced in February a plan to help 401 (k) and IRA owners to add annuities to their investment options. The fact that "longevity" options can increase income for a lifetime makes excellent sense. Knowing an income can pay for anytime period allows for a lifetime of security for the plan participants. The announcement by the Treasury received a lot of attention and helped push annuities to the forefront of available options.
The proposal would give these annuities "special relief" from Internal Revenue Service rules that require retirement plans to start taking taxable withdrawals at age 70½. Treasury officials have not yet provided final rules and regulations, but the obvious need for annuities in planned as an alternative to guaranteed income needs.
A recent discussion with Treasury officials did reveal an outline of their plans, income withdrawals would need to start by age 85, and there would be a limit percentage of the 401(k) that can be placed in the annuity.
Many details still need to be considered such as how the annuity would be managed within the 401(k) plan administrator. How best to select the correct insurance company and keeping compliant with existing Employee Retirement Income Security Act (ERISA) rules are key concerns.
The Treasury has reiterated the need for "longevity income" for plan participants and outsourcing the responsibility to insurance companies seems like a good fit. Many companies build their portfolio around the necessity of their customer's income needs lasting an extended period. Insurance companies can reduce the risk of an individual making an incorrect decision with their vital assets.
Outsourcing the responsibility for providing income for plan participants is solid thinking a recent official stated. Place the trust in the hands of those who are expert in the field.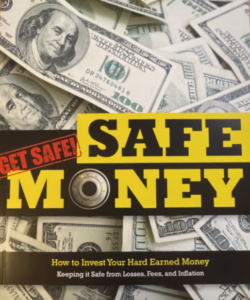 Premium gift for you for registering for my newsletter
I am a member of Syndicated Columnists, a national organization committed to a fully transparent approach to money.
Interested in additional information? Register for my FREE bi-monthly newsletter, "Layin' it on the line." It contains information that other people have found beneficial. I will never sell your information.
For registering, I have a Premium Gift for you.
Our 15th edition, "Safe Money Book" a $20 value
77,000 copies in circulation
Learn the basics of a Safe Money approach to investing.
And it is FREE with your "Layin' it on the line" newsletter