Many people have mixed feelings about retirement.
They also don't have the correct mindset of retirement because they are still employed. Some even dread retirement because they don't have a clue, what they will do, will they be fine or miserable., Basically no one is prepared nearing retirement age.
In general, most people work all their life and are generally good about participating in employee benefits, retirements, etc. While employed, they have experienced market volatility a few times and are not concerned because the market eventually came back.
Historically, the stock market has a correction approximately every 7-8 years, and it takes a few years generally 3-5 yrs. to recover & move forward.
To retire safely, one must plan a few years before retiring by taking a few essential steps to assure their retirement is safe & smooth.
Firstly, they will have to take a complete picture of what assets they have to work with & how are they performing. Are they safe, or is everything at risk. You need to take a conservative approach & protect those assets using a safe vehicle or solution to ensure they are not at risk since they are so close to retirement.
Secondly, take a fact check of your liabilities. Are they on track to be debt-free in retirement, if not will the debts be manageable when they retire?
It will not be a bad idea, to have a meeting with your Financial Adviser & have a Financial Health Check or a second opinion.
Recent studies show, if a husband & wife are living at 65, chances are one of them will go to age 90 -95. Will you outlive your income in retirement? Do you have any provision for Long Term Care/Assisted Living, etc.? Are your assets protected from Probate?
If you handle these questions now, your retirement can be a lot safer, satisfying and comfortable.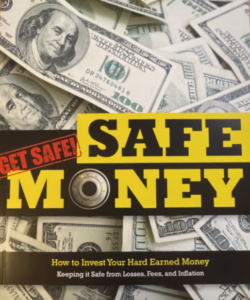 Premium gift for you for registering for my newsletter
I am a member of Syndicated Columnists, a national organization committed to a fully transparent approach to money.
Interested in additional information? Register for my FREE bi-monthly newsletter, "Layin' it on the line." It contains information that other people have found beneficial. I will never sell your information.
For registering, I have a Premium Gift for you.
Our 15th edition, "Safe Money Book" a $20 value
77,000 copies in circulation
Learn the basics of a Safe Money approach to investing.
And it is FREE with your "Layin' it on the line" newsletter