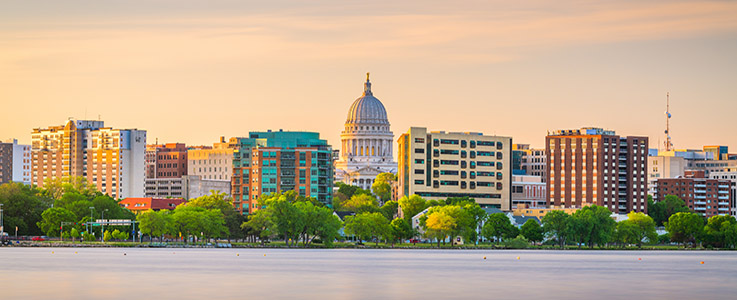 Retiring in Madison Wisconsin
A Dream Destination for Golden Years
Did you know that Madison, Wisconsin ranks high among the best places in the US to retire? The city serves a buffet of reasons why, making it an irresistible choice for retirees. From enticing tax benefits, an engaging cultural scene, and stellar health care to a robust educational community, let's dive into the details.
Tax Benefits
First, let's talk about one of the major perks of retiring in Madison: tax benefits. Wisconsin does not tax Social Security benefits, a boon for those relying on this form of income in retirement. The state also offers generous property tax credits, ensuring your dream lakefront home doesn't break the bank.
Healthcare
Madison is home to several highly regarded medical centers, such as the University of Wisconsin Hospitals. These facilities specialize in senior care, ensuring you have access to top-notch healthcare services whenever needed.
Educational Opportunities
Madison's educational environment is second to none if you're itching to learn something new. The city is home to the University of Wisconsin-Madison, offering retirees plenty of opportunities to engage in lifelong learning. From attending guest lectures to participating in the Osher Lifelong Learning Institute, there's never a dull moment for those with an insatiable curiosity.
Culinary Delights
Madison's culinary scene is sure to keep your tastebuds excited. For a classic Wisconsin experience, take a trip to the Dane County Farmers' Market on a Saturday morning and enjoy farm-fresh produce and artisan cheese. Visit the popular L'Etoile Restaurant for a top-tier, locally sourced meal. Or, explore the dining scene at Ha Long Bay, a local favorite serving Southeast Asian dishes.
Outdoor Recreation and Culture
Nature lovers rejoice! Madison's natural beauty is breathtaking, with more than 260 parks and countless lakes to explore. You can sail on Lake Mendota, hike through the Arboretum, or enjoy a peaceful afternoon at Olbrich Botanical Gardens. Not to mention, the city's active cultural scene ensures you're never far from a music festival, art exhibition, or Broadway show at the Overture Center.
Community Support
What's truly unique about Madison is the strength and support of its community. Various organizations, such as NewBridge Madison, are committed to helping seniors stay active, providing services like Meals on Wheels and wellness programs.
Retiring should be about relaxation and fulfillment, not financial stress or healthcare woes. By offering a multitude of benefits tailored to the needs of retirees, Madison, Wisconsin, presents an attractive option for your golden years. And remember, while this article can provide a glimpse into the perks of retiring in Madison, there needs to be a personalized plan from a trusted financial advisor.
After all, retirement isn't just about where you're living, it's about how you're living, and Madison ensures that every moment of your retirement can be enjoyed to the fullest. It's not just a good place to retire; it's a great one!
Madison, Wisconsin is a prime retirement destination offering numerous benefits like tax advantages on Social Security and property, access to high-quality healthcare services and the esteemed University of Wisconsin-Madison, and a vibrant culinary and cultural scene.
The city's commitment to senior support is evident through organizations like NewBridge Madison, and the local community offers an abundance of recreational activities, from exploring over 260 parks and lakes to enjoying local farmers' markets and high-end dining experiences.
While Madison presents a great place for retirement, a personalized financial plan from a trusted financial advisor ensures a worry-free and fulfilling golden age, focusing not just on where you live, but how you live.
Many people have learned about the power of using the Safe Money approach to reduce volatility. Our Safe Money Guide is in its 20th edition and is available for free.  
It is an Instant Download.  Here is a link to download our guide: 
Safe Money Guide – Annuity.com