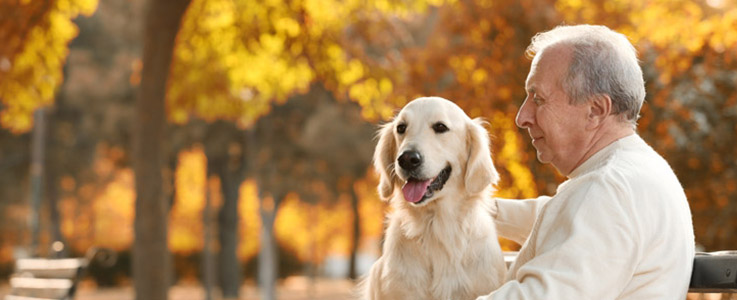 Retirement And Pets, Be Aware Of Expenses
"Having a pet in retirement can be a source of joy.  But, pets can also create financial stress.  It's a good idea to plan for pet ownership when you're retired. -Lyle Boss
Having a pet in your home as you age is something of a double-edged sword. On the one hand, a companion animal can provide comfort and happiness. On the flip side, though, many people make potentially costly mistakes when they decide to have a pet in retirement.
Many financial planners and advisors admit that they don't typically ask pertinent questions about current and future pet ownership when sitting down with clients. Unfortunately, this oversight could create stress and heartache for seniors who plan on spending their lives in the company of their favorite four-legged friend.
Are you thinking of owning a pet when you retire? Consider ALL the costs.
Sure, you could own a turtle, a tank full of fish, or perhaps even a snake or two. However, if you are like most retirees, you prefer something a bit cuddlier, like a dog or cat.
It would be a good idea to consider some critical things before deciding to get a dog or cat after you retire.  It would help if you understood the purchase or adoption costs, including necessary vaccinations, neutering or spaying, and the general expenses incurred over the pet's lifetime, such as food, vet visits, and wellness and comfort items.
Even when you don't have to purchase expensive fencing for your yard, other costs like vaccines, preventative medications, toys, and food can add up to over $600 a year.
Routine dental, grooming and wellness visits with the vet are often another $400-600 per year, depending on your pet's age and breed. Should your pet need significant medical care, such as operations or cancer treatments, you could be looking at vet bills in the thousands of dollars.
You must be aware of the high cost of veterinary services.
Some seniors bring the family dog or cat with them into retirement. But unfortunately, older pets are susceptible to some of the same diseases, ailments, and chronic conditions afflict aging humans.  Senior dogs and cats can suffer from cancer, diabetes, obesity-related issues, heart problems, arthritis, and other conditions brought on, or exacerbated by, the aging process.
Unfortunately, there is no such thing as "Medicare for Pets." And while pet insurance and pet HMOs exist, they often have limited coverage, high out-of-pocket costs, and may exclude older pets.
If you aren't bringing an existing pet into your retirement, you might be considering adopting or purchasing a dog or cat. Just bear in mind that veterinary care is pricey and often more costly than medical care for humans. Even the healthiest dogs and cats need vaccinations, flea medication, heartworm treatment, and dental care. In addition, certain breeds of dogs and cats will need even more specialized preventative maintenance to stay healthy. While it is often possible to find seniors' discounts or reduced-cost services from animal rescue organizations, the medical expenses associated with pets are still something you need to bear in mind.
Summing it up: Owning a dog or cat can help make the retirement transition more manageable and pleasant. In addition, companion animals can demonstrably improve a retiree's mental health and overall well-being. However, there are expenses associated with having animals that you should factor into your retirement blueprint before committing to pet ownership. Talk to your financial advisor about the best way to provide for your pet without dipping into your retirement savings.