With billions of investment dollars going into mutual funds, insurance companies created a competing product called Variable Annuities that allows you to invest your money within investment portfolios called subaccounts. Unlike other annuities, a variable annuity does not guarantee a set rate of interest or earnings, being based instead off fund performance and account averages. However you can buy, sell and switch funds at any time without incurring taxes until you begin to withdraw your original investment and income after age 59 ½. At that time your gains are taxed as ordinary income. of time. Transfers between your portfolios can also reduce tax burdens.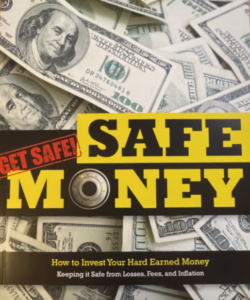 Premium gift for you for registering for my newsletter
I am a member of Syndicated Columnists, a national organization committed to a fully transparent approach to money.
Interested in additional information? Register for my FREE bi-monthly newsletter, "Layin' it on the line." It contains information that other people have found beneficial. I will never sell your information.
For registering, I have a Premium Gift for you.
Our 15th edition, "Safe Money Book" a $20 value
77,000 copies in circulation
Learn the basics of a Safe Money approach to investing.
And it is FREE with your "Layin' it on the line" newsletter