12 b-1 fees are a percentage of a mutual fund's assets used to defray marketing and distribution expenses. These fees are deducted from the overall mutual fund value and each fund owner is assessed these fees based on their number of shares. The amount of the fee is stated in the fund's prospectus. 12 b-1 fees can range from .10% to as high as 1% of the annual account value.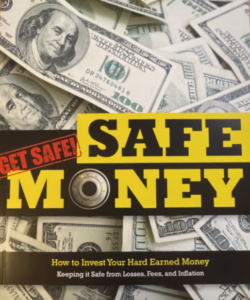 Premium gift for you for registering for my newsletter
I am a member of Syndicated Columnists, a national organization committed to a fully transparent approach to money.
Interested in additional information? Register for my FREE bi-monthly newsletter, "Layin' it on the line." It contains information that other people have found beneficial. I will never sell your information.
For registering, I have a Premium Gift for you.
Our 15th edition, "Safe Money Book" a $20 value
77,000 copies in circulation
Learn the basics of a Safe Money approach to investing.
And it is FREE with your "Layin' it on the line" newsletter