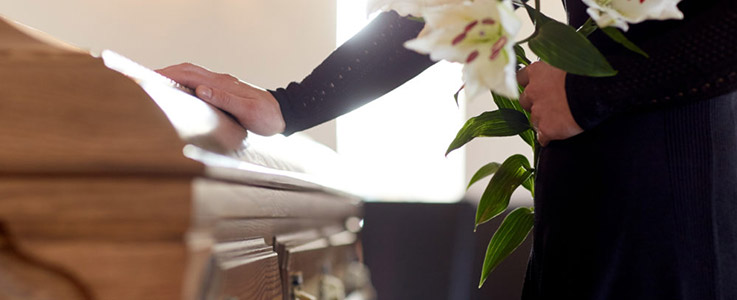 Life after the memorial: 9 things every widow MUST do in order to protect her financial well-being
Losing a spouse is difficult at any age, but it is particularly devastating for women nearing retirement. Many of these women may have assumed more traditional roles during a marriage, such as the stay-at-home mother or they may not have taken an active role in running the family finances. Many older widows do not have a good understanding of what to do once the funeral is over and the last relative is out the door.
When a death occurs, even one that was expected, intense emotions can make sound decision-making nearly impossible. The strongest, most independent women can become overwhelmed as questions are thrown at them at high velocity and they are pressured by everyone from well-meaning friends and family members to shady sales people. That's why it is crucial to make no serious financial or personal decisions for at least six months after your spouse has passed.
In other words, don't be tempted to do things like sell your home, give away all your possessions to your kids or grandkids, allow people in your inner circle to "pick through" your spouse's effects, or make major purchases. Take some time to Give yourself a few months to adjust to life without your loved one before making any life-altering decisions.
There are, however, smaller tasks you will need to undertake as soon as you can to mitigate the potential for financial loss. Thankfully, most of us have at least one trusted advisor to whom we can turn for assistance. You aren't alone in this- be sure to reach out to your CPA, attorney, financial advisor, or a close friend or relative who has your best interests at heart.
Here are 9 things I think every widow should do as soon as possible, to ensure that she or he doesn't risk losing the nest egg she and her spouse spent so much time and effort accumulating.
1. Gather every relevant document in one place. This includes tax returns, bank and credit card statements, insurance policies, pension statements, birth, death, military, and Social Security records. You are going to need all of these at some point.
2. If your spouse was on Medicare, Medicaid or other kinds of health insurance, notify those agencies as soon as possible that you will no longer be paying premiums.
3. Keep your joint checking account for at least six months. While you should notify your bank of your spouse's death and cancel any ATM cards in his name, there may be additional rebates or other checks coming in under his name, and you'll need an account into which to deposit such checks.
4. Get at least ten copies of the death certificate. Ask your funeral director to provide you with multiple copies of the death certificate as many banks and government institutions will require a copy. For example, you won't be able to change the title to your automobile, home or other property without a death certificate.
5. Pay all your bills on time to avoid late fees and credit dings. If you weren't actively involved in paying the family bills before, you'll need to locate and list every household bill along with the due dates and minimum amounts. If your bills are on auto-pay, you'll need to be sure that the accounts have adequate funds.
6. File life insurance claims. Work with your financial or insurance professional to help get the claim process started as soon as possible.
7.  Put a "freeze" on your credit. As awful as it is, there are scam artists out there just waiting to take advantage of your emotional state and make off with your money. To help lessen the risk of identity theft and other fraud, you can contact the major reporting agencies (Experian, Equifax, and TransUnion) to set up a credit freeze. Contact those agencies to learn more about this powerful tool.
8. Revise your wills, powers of attorney, and advanced medical directives.
9. Assess your cash flow. Figure out all your sources of income and exactly how much cash will be coming in.
While this is by not a complete and thorough list of things you need to consider when your spouse passes, these nine things will get you started and help you achieve some peace of mind as you adjust to widowhood.