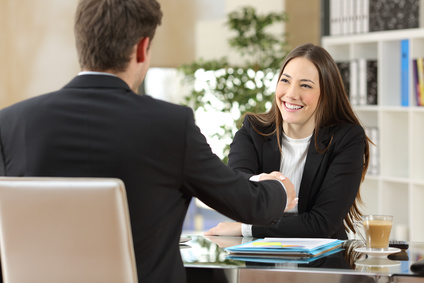 How to Choose an Attorney
A 40-year-old lawyer who had been practicing since he was 25 passed away and arrived at the Pearly Gates. The lawyer said to St. Peter, "There must be some mistake! I'm only 40. That's way too young to die!" St. Peter frowned and consulted his book. "That's funny, when we added up your all your billable hours, we figured you should be at least 83 by now!"
If you're like most people, you hope and pray you'll never need a lawyer. However, given the current contentious and litigious leanings of society, you will probably need one at least once during your lifetime. That's why it's a good idea to learn right now what you will want in an attorney when the time comes.
When you choose the right attorney, he or she will be your partner throughout your legal relationship. You will be confiding sensitive personal and financial information to them; information with the potential to be embarrassing or uncomfortable.
That's why choosing the right attorney is so important. You need a lawyer who is not only competent and experienced but who is serious about helping move your case to a favorable outcome as quickly as possible.
Regardless of whether you are looking for an estate attorney, tax attorney, family law practitioner, or other specialist, there are things you should take into consideration before beginning a relationship with an attorney.
Find your candidates
1. Ask for a recommendation. If you don't know any lawyers, then ask a friend, family member, or co-worker to recommend an attorney with whom they have worked.
2. Check their online reputation. The internet can be a wealth of information when it comes to learning more about your lawyer. A seasoned attorney should come up in search in multiple places. Read reviews, professional bios, or check them out on Linked In.
3. Use a legal referral service such as Legal Match or Avvo ( https://www.legalmatch.com ) ( https://www.avvo.com/ ) Most of these sites charge attorneys for a listing, so they may not be without bias. However, they are a good starting point if you don't know the attorneys in your local area.
As you do your research, jot down the names of potential candidates. Narrow your list to the 4-5 you believe fit your unique requirements and with whom you will be able to work. It's essential you find an attorney whose personality is a good fit with yours. A client-attorney relationship is intense and personal, and you need someone with whom you can get along, not someone with whom you will experience endless friction.
Next, you will want to interview each candidate to discover their areas of specialization, experience with cases similar to yours, and personalities. You'll also want to find out about their fees and payment preferences, so there is no sticker shock when the bill comes due.
All of this sounds like a lot of work, but when you consider how much time and money you will be investing in this relationship, it is worthwhile.
Interview all the candidates
After you make your list, you should arrange for an in-person or phone interview with each attorney. Avoid choosing candidates based simply on the prestige of their particular firm. Your relationship will be with that individual attorney, and not their firm, after all.
1. Be detailed and clear: When you call the attorneys' offices, be sure to tell the office manager or paralegal exactly what your goal is. In many cases, the attorney is more than willing to give you an initial consultation at no charge to determine whether or not you can work together.
2. Ask the right questions: When you do meet the attorney over the phone or in person, ask lots of questions such as:
• What experience do you have in my particular type of case?
• How long have they been in practice?
• Can you give me some examples of your successes in these kinds of cases?
• Do you have special certifications or skill sets related to my case?
• Describe your fee structure?
• Are you willing to work within my budget?
• Do you outsource work to other attorneys or paralegals?
• If you do outsource, who are the other people with whom I might be working?
• Do you have case studies or client references?
• Have you ever published articles or books about my type of case?
• Do you have written representation/fee agreements? If so, may I see an example?
• By what means will you communicate my case status? Email? Client website with login? Telephone? Text message? In person meeting?
• How often will you contact me regarding my case?
• Are you as comfortable in a courtroom as you are settling a case?
• Have you ever been disciplined or sanctioned by your state or local Bar Association?
As the attorney responds to these questions, be sure to take notes and get a feel for each lawyer's personality. If their responses are brusque, evasive, or make you feel uncomfortable, you may want to cross that name off the list.
Teresa Kuhn, JD, RFC, a non-practicing attorney and financial strategist in Austin, Texas says that it's important to find an attorney who enjoys helping people solve their problems. "As a former attorney, I know how important it is to have someone who is really in your corner; someone you feel confident is acting with your best interests in mind. After all, you will be confiding things to them that you may never have shared with anyone else. A good attorney needs to demonstrate not only competence and resolve but also kindness and empathy."
Your initial interview should be as much about avoiding lawyers you don't like or with whom you cannot work as it is about checking their credentials and experience. An abrasive, disorganized, over-booked attorney will erode your confidence and cause you unnecessary stress and frustration, no matter what their "win percentage" is.
After speaking with the attorney, note your personal feelings. Ask yourself some questions:
Does this attorney make me feel confident…or wary? Do they seem empathetic and in-tune with my needs or are they intent on pushing their agenda?
Is this the kind of person with whom I can share intimate personal details?
Do I get the sense that he or she will be there for me when I need them? Were they listening to me or were they distracted? Do they have the bandwidth needed to handle my case adequately?
Take a tour of the office.
You can glean a lot of valuable information about an attorney just by looking at their office. When you have your list narrowed down to 2-3 potential lawyers, arrange for office tours.
Your brief office visit will allow you to see whether or not your candidate runs a "tight ship" or is a "Better Call Saul," type; disorganized, sloppy, and lacking focus.
Note whether or not there is support staff and whether that staff seems upbeat, happy and friendly. Surly employees are often a sign of underlying practice issues.
Are there other attorneys sharing the space? Do these attorneys collaborate on cases? Is there a practice manager or legal secretary?
The task of choosing the right attorney may seem somewhat daunting. However, if you follow the steps outlined, you will go a long way toward ensuring that however complicated and stressful your case may be, you have found a partner who will stand behind you and do everything possible to provide the best outcome.