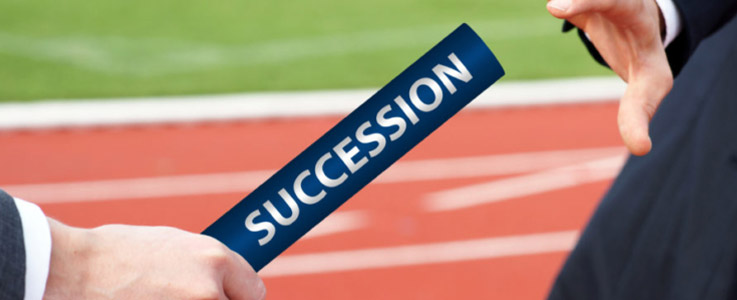 According to California-based exit planner Bill Black, "85% of small businesses have done no planning, leaving their families and employees at risk." In addition, survey after survey indicates that Baby Boomer and Genx business owners have done little to prepare for the day when they will no longer work in their businesses.
Unfortunately, exiting a business in today's chaotic economic environment is a complex process, filled with pitfalls and the potential to wind up with little to no retirement income.
Only about 3% of small to mid-sized businesses that go on the market wind up selling successfully.
That's why owners of businesses who want to transition into retirement must start planning from day one and continuously review and refine those plans. From the moment you hang your shingle to the day you serve your final customer, you should be formulating a design for life after business.
Business succession, when carefully thought-out and executed, doesn't have to be a frustrating experience. By partnering with a team of trusted experts, you can increase the value of your business before selling, have more comfortable discussions with family members about your decisions, avoid tax issues, and create a peaceful, secure post-business life.
Here are some common issues when considering business exit planning.
Lack of any plan at all. 85% of business owners in the United States lack even a basic exit strategy. This failure to plan is often related to faulty assumptions. Many owners believe that a family member will take over the business or remain healthy enough to work until the day they die. Some owners overestimate the equity in their business. Others feel it will be easy to find a buyer when they decide to retire.
I am not discussing exit ideas with family members. However, even if a basic exit plan is present, small to mid-sized business owners sometimes fail to review their families' plans. Failing to include family members in a succession plan leads to hurt feelings and tension.
Misunderstandings can quickly occur if one of your relatives is assuming they will take over when you retire. Regular family meetings will help alleviate some of these issues and allow you to receive valuable input from the people most impacted by your choices.
Here are some common mistakes many business owners make when exiting that can lead to unsatisfactory outcomes.
They are failing to integrate a succession plan into your company's culture. Similar to failing to inform family members, not discussing your intentions with employees, especially your key employees, can have adverse consequences. Many owners, afraid key employees will "jump ship" before the business sells, refuse to discuss their plans. Most business transition experts agree that it is a good idea when companies build around the idea that there will be an orderly succession. Such businesses are more likely to grow, prosper, attract, and retain the best employees. If you decide to sell, your business could command a much higher price if a solid succession plan is in place.
You are poorly organized and bad at record-keeping. If you have decided to sell rather than appoint a successor from your employees or family, you need to get organized. When a potential buyer is on your doorstep is not the time to discover that your back office is a mess. It is essential to ensure that bookkeeping, vendor records, legal documents, and customer lists are not chaotic jumble. Disorganization can stop a potentially lucrative deal dead in its tracks.
Not understanding that selling takes time. If you ask the typical owner of a small to mid-sized business their exit plan, they will often say they plan to sell. It seems that every business owner feels their business is so attractive that it will be easy to sell. Just list it with a business broker, wait a couple of days and then pick up your check. But selling even a small business is a lot more involved than most people believe, especially if there was no real planning beforehand.
They are not finding specialists to assist you. Business owners who wouldn't dream of doing their taxes without an accountant or appearing in court without a lawyer seem to believe they can sell their businesses independently. This is probably one of the biggest mistakes an owner can make.
The typical business owner unfamiliar with the processes that go into a sale often don't understand their exposure to litigation arising from the sale. That's right- you could go your entire business life without even the threat of a lawsuit, then find yourself in court after you sell.
Selling a business needs to be a team effort utilizing the unique skill sets of tax specialists, business attorneys, valuation experts, human resource advisors, and financial planners.
With the shift in federal taxes, the Tax Cuts and Jobs Act, and the recovering economy, my office is becoming even more proactive, team-driven, and holistic for my clients. Team-based advising is an essential step in these ever-changing times.
I align my clients with a forward-thinking CPA who becomes part of their team. If you'd like to see how this model works, please take a few minutes to ensure we have a clearer picture of your specific situations. Then, follow the link at the end of this article and complete the "Client Information Questionnaire."
Not doing everything to increase the value of the business In much the same way as a house is spruced up and given more "curb appeal" before selling, a company can be tweaked to make it more desirable to potential buyers. For example, audits might reveal inefficiencies that could be addressed to streamline daily operations. New profit centers could be found to create more revenue. Depending on the type of business, automation might impact costs such as payroll and administration.
Inaccurately estimating the value of your business. In the vast majority of cases, business owners tend to overestimate the value of their business. Placing too high a value on a company is certainly understandable considering the deep emotional connection most owners have with their companies. That's why you need to get a dose of truth about the real value of your business long before you decide to sell. Again, finding a competent and knowledgeable business valuation expert is critical.
Not formulating a plan to create a retirement income from the proceeds. It's an unfortunate truth that many small to mid-sized business owners who do manage to sell their businesses for a profit wind up broke within a couple of years. Unfortunately, many successful sellers don't sit down with a financial professional to discuss how to make that money last into retirement and beyond. It is possible to create reliable, safe streams of income from the proceeds of your business by using financial products such as annuities and life insurance.
Other proven strategies to help make your transition from business owner to retiree more comfortable and prosperous. I can better explain these options when you complete the survey at the end of this article.
Selling a business doesn't have to be a stressful and challenging ordeal.
With the shift in federal taxes, the Tax Cuts and Jobs Act, and the recovering economy, my office is becoming even more proactive, team-driven, and holistic for my clients. Team-based advising is a critical shift in financial planning for business owners, individuals, and families in the 21st Century.
I will align you with a forward-thinking CPA, who will become the cornerstone of your team and help you formulate a blueprint for success.
Please take a few minutes to complete our "Client Information Questionnaire." Then, click the link and follow the instructions.
http://www.Advisorciq.com
Enter Pin: 753