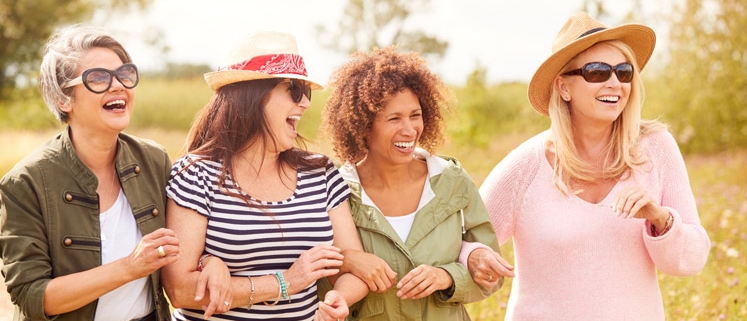 The Next Major Annuity Market Is Massive: Women
Women live longer than men, so an annuity with a lifetime income might make good sense.
It hasn't even been that long ago that women could not vote in America. Not only that, there was a time when women were considered "property" of their husbands in many parts of the world that is still the case. Fortunately, in America, all are equal, well, maybe.
But guess what?
Women are going to be the biggest annuity market in our history. Why? It is simple, they are living longer, they are more security conscious, and they demand guarantees. Insurance companies are now just waking up to that fact, and many are beginning to price their annuity payouts on one simple fact, women live longer than men. In the past, payouts from annuities were not gender-specific, it was all in one large pool, men and women together.
Not only do women live longer, but they also earn less and they invest differently. As the role of women become more and more equal, so will their earning power. Current estimates place women worldwide earning nearly $13 trillion annually and by 2017 that is expected to be more than $17 trillion. Wealth is also slowly becoming more equal; the global share of the world's wealth is gradually swinging to equality between genders.
A recent report said that in households with at least $250,000 in bankable assets, women control about a third of the wealth. That percentage could increase over the next two generations as women are projected to take in 70% of the inherited wealth. Women live longer than men. According to Ernst and Young, by 2028, women will control 75% of discretionary spending worldwide.
To meet the demand of this economic shift, annuities will become more and more in demand. The same is true for financial advisors; more women will fill the gap. Women and a group tend to need more value in their investing, causing products with true guarantees to become more important.
Here are some tips for investing in an annuity. Remember, annuities are a long-term commitment; they provide specific benefits for specific goals. Annuities can be complicated, and liquidity can be an issue in some contracts.
What do you want the annuity to accomplish? Who suggested an annuity to you? Were you attracted to the benefits of an annuity without knowing it WAS an annuity? Do you have a need in your retirement portfolio for the specific benefits that you can provide?
Before committing to an annuity, make a list of what you are attempting to accomplish. Is it income? Is it safe? Is it the outsourcing of money management? Are you fearful of outliving your income? Are you using an annuity for tax deferral?
Are you aware of the different types of annuities? Annuities fall into two types: those sold by security brokers and those sold by insurance agents. How do you know what kind of annuity will best serve your needs? Are you attracted to any specific rider on an annuity, such as an income rider or an enhanced death benefit rider? Does a long-term care rider appeal to you? The bells and whistles of a specific product being presented to you may sound exciting, but they can charge fees and cut into the performance of the annuity. Ask for exactly what is being charged for any rider and make sure you understand how the fees can affect long-term performance.
Liquidity can be an issue. How is your fund accessed? How much can you withdraw annually? Can you convert your annuity to income with fees or expenses?
Asset transfer to heirs is also an issue. Annuities can provide specific benefits, BUT they never qualify for a "step up" in basis, which can make them poor choices for asset transfer to heirs. Annuities, if misused, can become tax time bombs.
Should you use an agent or advisor to help you understand and select the correct annuity for you? Almost without question, the answer is yes. Agents will earn a finder's fee for providing an annuity for you, but that fee does not come from your money, 100% of your deposit is credited to your account. The insurance company pays a finder's fee to the agent for finding you and for providing eh paperwork for issuing your annuity. In most cases, the agent will also be available to service your annuity over the years.
The benefits annuities provide can be a perfect scenario for women. Remember they are smart, value-conscious, and lean towards guarantees.
Many people have learned about the power of using the Safe Money approach to reduce volatility. Our Safe Money Guide is in its 20th edition and is available for free.  
It is an Instant Download.  Here is a link to download our guide: