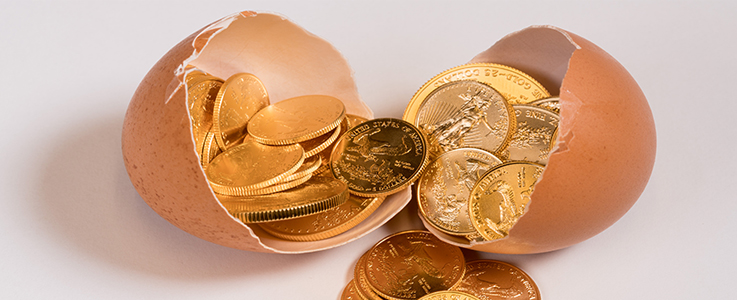 Fixed Indexed Annuities Vs. Variable Annuities
Safeguarding Your Retirement Nest Egg
Annuities have long been presented as a safe harbor in retirement planning in uncertain financial times. These financial products, offered by insurance companies, promise to pay out a steady income stream over a set period, typically throughout one's retirement years. But not all annuities are created equal; there are fixed indexed and variable annuities, and their differences are paramount. In an era where financial security in retirement has become a looming concern, it is crucial to highlight the advantages of fixed-indexed annuities over their variable counterparts.
At their most basic level, fixed-indexed annuities provide a guaranteed interest rate, offering stable and predictable returns. In contrast, variable annuities are subject to the ups and downs of the market, with the return on investment depending mainly on the performance of sub-accounts where the funds are invested. In simpler terms, the security of fixed-indexed annuities stands in direct opposition to the market exposure of variable annuities.
While they may offer the potential for higher returns, variable annuities come with market risk that may be inappropriate for many retirees. For those seeking stability and assurance, the prospect of their hard-earned retirement nest egg fluctuating with the market's whims is daunting. This financial roller coaster often forces retirees into a position of incessant market-watching. This stress-inducing habit flies in the face of what retirement should be: a period of relaxation and peace of mind.
Further, variable annuities are often criticized for their complex fee structures. These products may come with various charges, including mortality and expense risk charges, administrative fees, underlying fund expenses, as well as surrender charges. While potential high returns may justify these costs, the downside is considerable when the market doesn't perform as expected.
On the other hand, fixed-indexed annuities shine as beacons of reliability in the retirement planning landscape. Their simplicity is their strength; they offer a guaranteed rate of return, and their fees are tied to an option rider that may be selected. Net yields on fixed-indexed annuities are normally capped which means if the market index selected earned 10% and the annuity cap was 60%, the yield earned would be 6%. Many retirees or near retirees would consider the trade of a capped return against market exposure a real win.
A fixed-indexed annuity is like a bedrock, providing a solid foundation upon which retirees can build their financial plans without fear of market turbulence.
Furthermore, with fixed-indexed annuities, the principal investment is protected, and the income may be guaranteed for life, thus ensuring a dependable flow of income that can't be outlived. This 'insurance' against longevity risk is a significant advantage for those who fear outliving their savings, a concern that has become increasingly prevalent with longer life expectancies.
Some critics may argue that fixed-indexed annuities' returns might not keep pace with inflation. However, many modern fixed-indexed annuities include optional riders that can help offset the impact of inflation, thereby providing an additional layer of financial security.
The choice between fixed indexed and variable annuities often boils down to one's risk tolerance and retirement goals. With their unpredictability and complex fee structures, variable annuities might suit those with higher risk tolerance and a desire for potentially higher returns. However, fixed-indexed annuities emerge as the clear winner for retirees seeking a steady, reliable income stream. Their simplicity, predictability, and guarantee against longevity risk make them an indispensable tool for safe money retirement planning.
Remember, retirement should be about enjoying the fruits of your labor, not worrying about the market's fluctuations. Fixed-indexed annuities allow you to do just that, providing peace of mind and financial security in your golden years.
Securing your financial legacy and ensuring your peace of mind during retirement is a step away. Reach out to an annuity expert today to begin charting a course toward a financially secure, stress-free retirement. Your future self will thank you.
Fixed-indexed annuities offer a guaranteed, stable return and provide a predictable income during retirement, making them a reliable choice for those who value security over the risk inherent in market fluctuations.
Variable annuities are subject to market volatility and have complex fee structures, making them potentially riskier and more complicated, especially for those who desire peace of mind and simplicity in their retirement planning.
Consulting with a trusted financial advisor, particularly one with expertise in annuities, is vital to securing a comfortable and stress-free retirement, ensuring you choose the best options for your unique financial situation and retirement goals.
Many people have learned about the power of using the Safe Money approach to reduce volatility. Our Safe Money Guide is in its 20th edition and is available for free.  
It is an Instant Download.  Here is a link to download our guide: