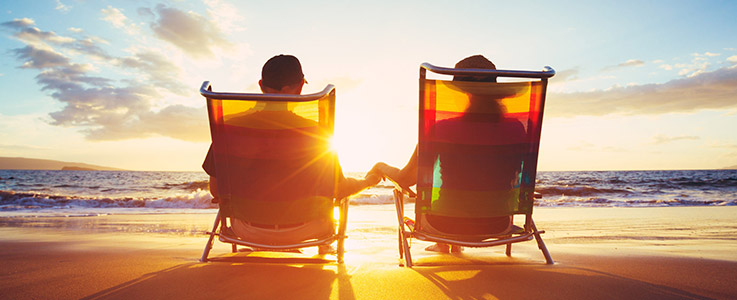 Can You Ensure Your Golden Years Are Sweet?
"There is only one difference between a long life and a good dinner: that, in the dinner, the sweets come last." – Robert Lewis Stevenson.
We all want our retirement years to be financially secure, but the "Golden Years" are anything but sweet for many. Even the best plans can be completely derailed by market losses and fees, leaving retirees wondering if they'll have enough to live on for the rest of their lives. And market losses are only part of the problem. The biggest challenge for many retirees is the concern about the time required to recover from market losses.
What if there were a way to contractually guarantee you would never lose a penny due to a market drop and still participate in the gains? How about being able to sleep every night knowing you have an income you and your spouse can never outlive? Is it possible to feel confident that you will be prepared for the additional expense if/when the time comes for long-term care?
Can you really have a Safe-Money retirement?
The answer to all these questions is a definite YES! 
YES, there are ways to guarantee your market risk is gone while still participating in market gains. YES, you can have an income that will be contractually guaranteed to last the rest of your life and your spouse's life. YES, you can be prepared for the significant additional expenses that come from needing long term care.
Enter the Fixed Indexed Annuity:
Fixed Indexed Annuities have contractual guarantees that you will never lose any of your hard-earned retirement to market losses, not one cent! They can also guarantee a lifetime income for you and your spouse that neither of you can outlive, and they can have a long term care benefit that can significantly increase your income if you or your spouse qualify for it.
But how safe are these products and the companies that provide them? Can you count on them to be around for the long-term and to always uphold their end of the agreement?
Fixed Indexed Annuities are an insurance product, so for one to fail, the issuing insurance company would have to fail, and that's highly unlikely. Annuities are among the most highly regulated financial products available, having to pass each state's Department of Insurance's strict regulations. 
These regulations include:
Strict capital reserve requirements.

Regular audits.

The requirement to invest in safe, conservative, and dependable vehicles such as US corporate bonds and US Treasuries.
This provides annuity owners peace of mind knowing the company they are dealing with is solvent and managed properly. 
So what now?
You CAN have a plan with unlimited gains and no chance of losses to your principal or any previous year's gains.
You CAN have an income that is impossible to outlive, so you never have to be concerned about having to get help from your loved ones.
You CAN be prepared if a long term care situation arises, knowing your income will increase to cover the additional expenses.
Get your Safe-Money Retirement plan in place by visiting with a professional today. With the hundreds of annuity options available, it's important to work with someone you can trust to ask you the right questions about your personal situation and help you develop a plan to make your retirement what you want it to be. 
Don't travel this road alone and in the dark. Get with a professional that can help light your way to a worry-free retirement today.