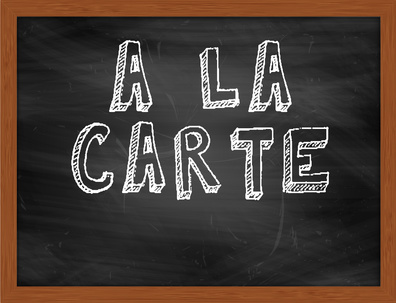 A La Carte Planning Don't Be A Victim
A dangerous phenomenon is happening within the financial services industry.
For years marketing gurus taught the masses about niche marketing.  We listened and drank the Kool-Aid.  It happened across almost every industry and worked like a champ.  By focusing on certain segments of the population, specialists homed in on their craft and focused their energy on profitability.  From plastic surgeons to cosmetic dentists, time not wasted on non-customers turned out to be genius.  My father used this tactic in the 1980s, called pre-screen credit.  He helped companies market credit cards to those who had higher credit scores and therefore more likely to be good customers from a usage standpoint and qualification metric. 
I want to caution the public about using this type of advisor as we enter the next two decades.  Let me explain.  Due to our current entitlement programs and their eligibility combined with a workforce aging well into their mid to late sixties, you have a new perfect storm if you will. 
Most American don't realize that Medicare is mandatory at age 65.  There is one exception, but do you know what it is?  In addition to Medicare, Social Security gives you an 8% guaranteed bump in pay from full retirement age until age 70.  More people are attending seminars getting information about Social Security and learning if it makes sense to wait.  But does it make sense to draw down assets to earn delayed credits?  This, of course, doesn't factor in health or simple economics of needing the money.  Most advisory groups apply conventional wisdom when pertaining to retirement income withdrawal strategies. 
"A la carte" planners can't efficiently suggest to a client how to marry wealth management, tax logic, asset location, and Social Security Optimization.
Details matter and niche investment firms or asset gathers aren't interested in doing the grunt work due to their business models or level of expertise.  If you aren't working with experts in retirement planning as an overall niche, you're exposing the future to a la carte planning.  Seek out qualified experts who specialize in all aspects of retirement planning and stay away from investment managers and insurance agents posing as one. 
Don't be a victim.