Ogden Insurance Professional, Lyle Boss, Wins National Award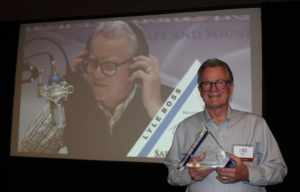 Ogden Utah radio host and insurance professional, Lyle Boss, has been honored with the prestigious Jed Mayfield Award for career sales excellence.
The Jed Mayfield Award is presented annually to the top Radio Host in America by Aegis Financial based in Denver. CEO Carl Muehlemeyer stated that Mr. Boss's expertise and career accomplishments more than merited this highly valued award. Jed Mayfield, based in Tucson, set the national standard for professionalism within the radio and insurance industry. Mr. Mayfield passed away three years ago, and in his honor, this award memorializes him.
Mr. Boss has been associated with the radio and insurance industry for over 30 years. He has helped thousands of people provide guarantees and stability to their retirement planning. In his remarks at receiving the award, Mr. Boss stated, "to receive the Jed Mayfield Award is a lifetime achievement, I am truly overwhelmed."
Learn more about Lyle:

955 Chambers Street, Suite 250
Ogden UT 84403
https://lyleboss.retirevillage.com/
http://www.safemoneylyleboss.com
801-475-9400