A recent article mentioned that Credit Suisse was evaluating how the new Department of Labor (DOL) "fiduciary" rule will affect companies depending on variable annuity fee income. The simple fact is this, variable annuities are losing their place in the market and will eventually be a simple add on product instead of the "bull" annuity product in the market.
Companies depending on the variable annuity revenue will be faced with the problem of where and how to replace that massive wave of income and profits once generated from the issuing of VAs.
The other side of the story is the rise and future dominance of our product, Fixed Indexed Annuities. (FIA). This past month, the FIA sector was greater than variable annuities in total sales.
The ironic twist is our former competitors (security salespeople) are now embracing our product and using it as a replacement for variable annuities. Of course, it is easy to understand; our products have no fees, no market risk and lifetime guarantee options (income riders).
The future?
Bright, then brighter then brightest! Nothing is stopping the FIA from becoming the leading retirement product available. Of course, that will come with a fight, a fight over who is in charge of regulating fixed indexed annuities. The DOL ruling will be a step in one direction or another; hopefully, the FIA will remain under state regulator control.
For over 100 years, insurance products have been regulated at the state level. Regulatory oversight has worked very well, and there is no need for federal assistance.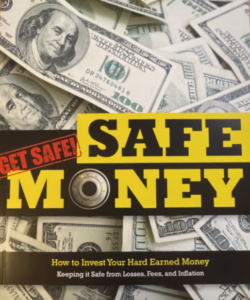 Premium gift for you for registering for my newsletter
I am a member of Syndicated Columnists, a national organization committed to a fully transparent approach to money.
Interested in additional information? Register for my FREE bi-monthly newsletter, "Layin' it on the line." It contains information that other people have found beneficial. I will never sell your information.
For registering, I have a Premium Gift for you.
Our 15th edition, "Safe Money Book" a $20 value
77,000 copies in circulation
Learn the basics of a Safe Money approach to investing.
And it is FREE with your "Layin' it on the line" newsletter