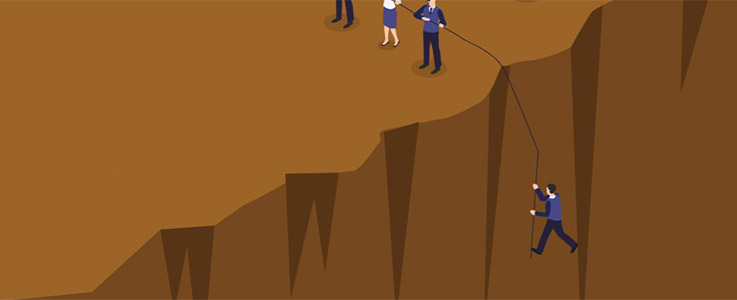 In These Trying Times, Don't Lose Your Grip On Your Finances
"While I'm definitely not as strong as Stallone, I do know how to keep my clients from falling off a cliff." Lawrence Castillo
You might remember the 1993 movie Cliffhanger with Sylvester Stallone and Janine Turner. While the movie was pretty pedestrian action thriller fare, it did have an unforgettable opening sequence that left me stunned.
Recently, I watched Cliffhanger on television and was again struck by that opening scene as Stallone struggled with all his strength to rescue a woman climber whose harness had malfunctioned. Usually, this kind of film features a sequence where our protagonist predictably rescues the person in distress at the last second, with an unbelievably super-heroic show of strength. But Cliffhanger was different. All of Stallone's character's brawn and intense training failed him. Even though he held her arm with all his might, the young woman climber slowly lost her grip and fell to her death, screaming, "I don't want to die!"
That certainly isn't your usual uplifting, "saved by the bell" Hollywood scene, complete with sappy music and applause, is it? Instead, my emotions were jarred as I confronted one of the most primal human fears- the fear of falling. Nearly all of us are afraid to fall, literally and figuratively, whether we fear falling from a cliff or tall building or into an abyss of financial misery.
The fear of falling is palpable among today's seniors as they experience record inflation, market volatility, and social unrest. Many of these seniors are worried that their advisors designed retirement plans which cannot withstand the coming economic storms.
Already these pre-retirees and retirees find themselves buffeted by headwinds that threaten to undo everything for which they have worked so hard and long. And they realize that this is just the leading edge of the storm.
Many seniors still working but close to retirement tell me they are afraid to open their 401k and IRA statements. They don't want to see how much wealth they've lost due to the recent market downturns. These retirees know they are bleeding cash but aren't sure what to do about it. Often, their financial advisor seems to have disappeared or is hiding under his desk and won't even return their calls.
Sometimes, I am shocked at how many risky investments these portfolios contain and how few non-market-correlated assets they have. Someone over 65 with 80% of their wealth in the stock market? That's insane! When I meet people in this situation, I offer to take a closer look at their current retirement plan and see what, if anything, can be done to alleviate their pain and fear.
I tell these folks I've been able to successfully stop my clients from falling by ensuring they have enough safe money in their portfolios to offset economic turbulence. I tell them how comforting it is for my clients to know they have a guaranteed lifetime income source to supplement their other accounts and Social Security. I tell them that my products have many modern improvements, allow for greater liquidity and flexibility, and can help create a legacy for your family. Most of these fearful seniors are relieved to know they can still participate in future market upticks while not exposing any more of their money to risk.
So, what about you? Are you at the edge of a money cliff, unsure and afraid? Times are indeed chaotic and unpredictable. Instead of becoming paralyzed with fear, I suggest that the time is now to take a closer look at your retirement matrix. Find a second set of eyes, someone who will tell you the truth and not try and sell you something, to review your portfolio. You and your advisory team need to re-evaluate and perhaps rebalance your assets to achieve greater diversity and less exposure to market risk. Also, you want to ensure that the investment mix you have right now is the best one to see you through the next few years. Contact me if you'd like an unbiased, truthful evaluation of your retirement and income plan. In the meantime, hold on tight and don't lose your grip.