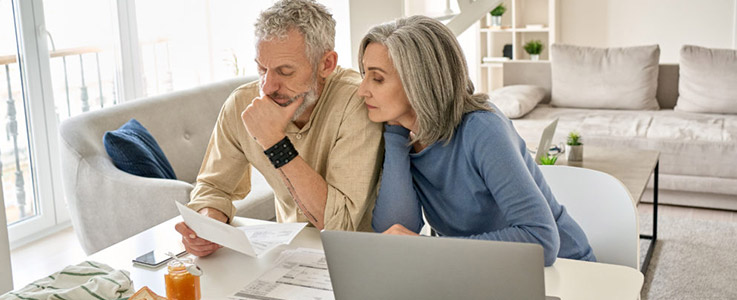 Spending Smarter Is The Key To Surviving Retirement In 2021-2022.
"Times are challenging and unpredictable. Is there anything you can do to stave off the impact of uncontrollable inflation, potential stock market downturns?"-Brian Swerdlow
If you're a recent retiree or are about to leave the workforce, I'm sure you've wondered about the precarious state of the money system and its' impact on your savings. You may have had a jolt when you bought groceries or went to a restaurant, or you've seen articles about the troubling labor shortage some employers are experiencing. It's not your imagination- inflation is rising and showing no sign of lessening. Even the influential and typically optimistic Atlanta Federal Reserve has slashed its GDP forecast by an unbelievable 41 percent since August 2, 2021, predicting only around 3.7% growth.
The US economy is in flux right now. If you are concerned about what that might mean for your quality of retirement, you should act now to ensure that your money will be more efficient and resilient. Now, more than ever before, it's critical to make every dollar do the work of four or five dollars and to find ways to slash expenses without compromising your quality of life.
There are several practical things that every retiree and pre-retiree can do to help their money go further in retirement. Being aware of potential spikes in the prices of items you'll need when you retire is a wise strategy.
As food costs soar, it pays to monitor your grocery spending.
You don't need to wait until you've quit working before starting to track how much you're spending on groceries and eating out. Automated online trackers such as Mint, Expensify, Digits, and Shoeboxed are ideal for helping you see where your money is going. Warning! Many people are floored when they see how much they spend on restaurants and junk food. Be prepared to swallow a bitter pill. Once you determine your expenditures and accept the truth, however, it will be easier for you to tweak your spending and perhaps develop healthier eating habits in the process.
Transportation costs keep rising. The average American senior spends nearly 14% of their income on transportation, whether for gas and automobile maintenance or public transportation costs.
Since gas prices fluctuate and you have no control over the ups and downs, you'll have to be a bit creative if you want to keep these costs in check. One thing you might do is to find a more fuel-efficient automobile or get rid of your car altogether if possible. Some seniors ditch their cars in favor of electric scooters, golf carts, or bicycles. If you plan on moving once you stop working, consider moving to a place with good public transportation options.
Medical care is of concern. Around 12% of an average American retiree's budget goes toward medical care not covered by Medicare or to pay insurance premiums. A proven way to reduce medical costs in retirement is, of course, to get healthy and stay healthy. Exercising, reducing alcohol consumption, eating whole foods instead of fast foods, and consuming less salt and sugar may help you cut back on doctor visits and prescription drugs.
If you are still working, another way to reduce the drain of medical expenses on your wealth is to plan for it. Ask your advisor if your company benefits plan will allow you to "max fund" your Health Savings Account. (HAS) In 2021, you can put up to $3,350 for individuals or $6,650 for families into your HSA on a pre-tax basis. If you are over 55, you can contribute up to $1,000 more to your HSA account.
Some will benefit from an annuity. Having adequate "safe money" in your retirement portfolio is never a bad idea.
For example, fixed annuity products, including "inflation-protected" annuities, are growing in popularity. An inflation-protected annuity (IPA) is a safe money vehicle that guarantees a rate of return at or above the inflation rate. If you are worried about inflation decreasing your purchasing power when you retire, you should ask your advisor about an IPA or other type of fixed annuity.
To sum it up: Times are challenging post-COVID. But that doesn't mean that you can't enjoy a less stressful, more fulfilling retirement. Making some small but critical changes to your spending habits and perhaps adding an annuity to your matrix will assist you in prospering, no matter what lies ahead.