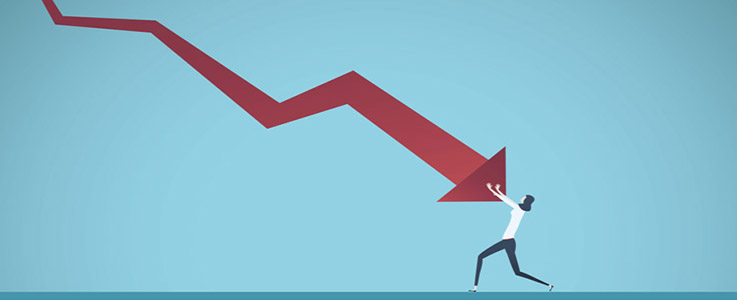 What Can You Do To "Recession Proof" Your Life?
"It's easy to want to panic when you're looking into a recessionary abyss. Having a long-term mindset can help, even if you are only a few years away from retirement." Paul Hubbard III
As I write this, the stock market is convulsing, as markets tend to do. Many of my clients, especially those nearing retirement, are understandably concerned as they watch their 401ks, and other qualified accounts take a beating.
There's a lot of speculation about our economy's future these days. Depending on which financial reports you read, we are either already in a recession, about to go into a recession, or we never truly recovered from the Great Recession of 2008-09. This state of flux can be confusing and panic-inducing. I want to encourage you, as I encourage my clients, to reign in your emotions and do what you can to make your wealth more recession-resistant.
Fortunately, there are some ways to fight back against the fear and stress that could drive you to make mistakes with your money during uncertain times. Here are a few things you can do to help you get through these challenging times.
Take a deep breath and open up your statements. When the market is acting up, leaving your 401k, IRA, and brokerage account statements in a pile next to the junk mail is tempting. You know you've lost account value, but you don't want to know how much. However, paraphrasing an old saying, "If you don't know where you are and where you are going, you'll eventually wind up somewhere else."
Clean up your financial life. After opening your statements and going through your obligations, it's time for serious financial hygiene. People typically don't pay as much attention to their money details when things are going smoothly. But, as life gets more challenging, you should probably start putting your money habits under the microscope. You'll want to account for every expenditure and debt to see where you might be unnecessarily bleeding cash. You should question every transaction you make, especially digital transactions, to ensure they are necessary and align with your long-term money goals. Personal austerity measures and self-discipline may not be fun, but they are critical if you want to get past market meltdowns.
Be the SMART money, not the DUMB Money. Investment professionals sometimes categorize institutional investors and mutual funds as "smart money" while placing individual investors under the "dumb money" umbrella. Those terms don't reflect on an investor's ability or intelligence but rather on their access to critical data and reporting.
The average individual investor tends not to know or understand things such as diversification, costs, and performance. Dumb money investors typically don't get much access to feedback reports or deep analytical reporting. On the other hand, smart money has nearly unlimited data and analytics to help them make more intelligent and informed decisions.
Dumb money's lack of investment literacy can lead to poor results, often as much as 3% less in earnings than the overall market. Your financial advisor might help you improve your odds of long-term investment success by giving you access to relevant performance feedback and data and allowing you to adjust your strategy accordingly. More feedback can lead to more informed decisions.
Shore up your safe money and income strategy. The asset mix you had six months ago may not be what you need to get through current and future economic upheavals. It's possible that your risk appetite has changed, and the amount of cash you have in market-correlated vehicles makes you uncomfortable. You may discover that you do not have enough money in annuities and other risk-averse products. Now is an ideal time to meet with your qualified retirement income specialist for a portfolio review. Having at least one additional stream of guaranteed income other than Social Security is a way to reduce your stress and prevent you from making emotional money mistakes now and in the future.