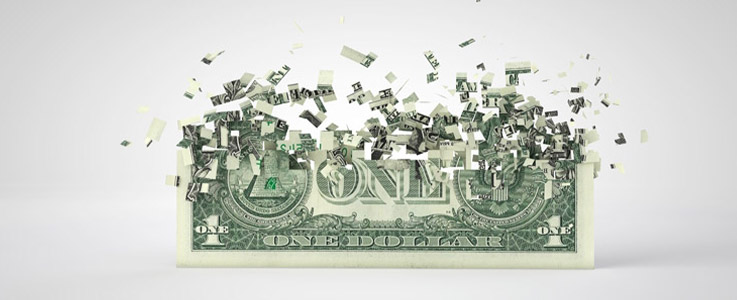 As A Recession Looms, Be Sure To Avoid These Common Money Mistakes
"When it seems as if the sky is falling, those who remain calm and focused on the long-term goals will come out ahead." Jim Fish
As a financial services professional, I walk a delicate tightrope. On the one hand, I am genuinely optimistic about the future, even in the face of a possible recession. On the other hand, I must always be honest and truthful with my clients, respecting their fears while at the same time offering guidance and hope. What I don't want to happen is for my clients and prospective clients to panic during these chaotic times and make mistakes with their money, from which they will not have enough time to recover.
Inflation, debt, and market turmoil can cause even well-planned people to toss and turn at night or to consider doing things with their cash that they would never do under ordinary circumstances. If you are struggling with finances (and all of us do at some time or other), you should remain calm and re-program yourself to think more in the long term.
Avoid panic-induced money mistakes, such as:
You are trying to use your home like an ATM.
Home equity represents one of the largest concentrations of wealth left to most Americans, especially those over 65. That being the case, there is a temptation for those still working to turn to home equity lines of credit (HELOCs), refinancing, or other, perhaps riskier loans. Older homeowners have a strong temptation to access their home equity via reverse mortgages.
Before milking your home's cash cow, you should discuss this with your financial advisor. You'll want to be sure that pulling money out of your home is the best option to help you solve your money problems.
Borrowing your way out of inflation-induced stress
American credit card balances increased by a whopping $52 BILLION in the fourth quarter of 2021. That increase was the most significant quarterly spike on record. Credit card balances are up more than 14% from last year.
As the Fed hikes rates, debtors will have a much harder time finding the light at the end of the tunnel. If you have other sources of cash that don't involve credit cards or high-interest loans, tap those first. Again, don't panic and try to charge your way through a recession- talk to your financial advisor about sounder solutions.
Forgetting to negotiate and eliminate
Tough times call for tough actions. If that means getting rid of your streaming service or eliminating every subscription service you don't use regularly, then you need to do it. Look at your bank statement, determine who's auto-debiting their way into your cash reserves, and eliminate any service that doesn't provide you with maximum value. Don't be afraid to negotiate lower prices for everything you use, including internet service, medical insurance, or other items. Bargaining can result in considerable savings, especially if you are a long-time customer.
You're failing to learn new skills.
As the pandemic faded, you may have given up on your lockdown resolutions to become more self-reliant, learn new skills, and stop paying more for services than necessary. That might be a mistake. I'm not saying you need to become one of those remodel gurus on HGTV, but learning basic carpentry or general home and auto repair could save you thousands of dollars in labor costs.
You are not letting your money work for you.
Tempting though it is, stuffing cash into a box and hiding it won't help you get through an economic downturn.
Your money needs to be working harder than ever through strategic, long-term investments or income-producing assets. If every dollar isn't pulling its weight, you may never be able to retire.
If you are over 50, you need at least one stream of income that you cannot outlive to supplement and strengthen your other retirement accounts. Speak with a qualified retirement income specialist to discover the only way to provide guaranteed income for life, guard against longevity risk, and perhaps help provide for a legacy and long-term care.
Advisory services are offered through Aegis Wealth Management, Inc. The firm is registered as an investment advisor with the SEC and only conducts business in states where it is properly registered or is excluded from registration requirements. Registration is not an endorsement of the firm by securities regulators and does not mean the advisor has achieved a specific level of skill or ability. ​
All investment strategies have the potential for profit or loss. Annuity and insurance guarantees are subject to the claims-paying ability of the issuing insurance company.