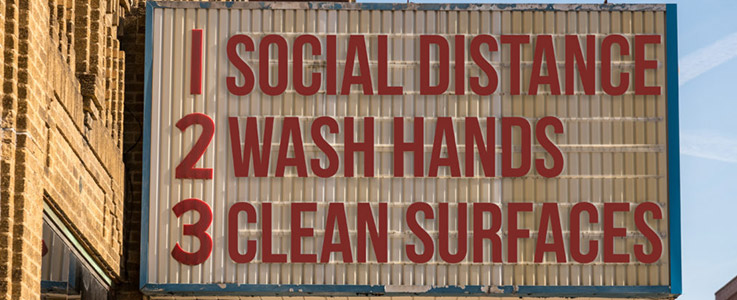 Is Your Advisor Making The COVID 19 Pandemic Easier On You
I'll be the first to admit that the retirement and income industry is somewhat behind the digital curve.
After all, it wasn't that long ago when insurance companies INSISTED on having paper copies of everything (often in triplicate!) along with signatures in black ink. Many companies viewed email and PDFs with more than a little suspicion. Insurance was one of the last major industries to be drug by the ankles, kicking, screaming, and holding on to the copy machine, into the 21st Century.
However, one upside to COVID-19 was that it forced financial advisors and agents to pick up the pace. Financial professionals have had to adapt to make it easier for their clients to do business virtually. The pandemic has forced me to re-think the way I do business. I had to swallow my pride and admit that I needed help transitioning to a virtual advisory model. Once I got past the growing pains, I realized how much my clients appreciate having an alternative to traditional meetings in their homes or businesses.
Even when COVID-19 is nothing but a bad memory, I know many of my clients will still want to meet over the internet, upload encrypted documents, and download their policies themselves.
Recently, I onboarded a new client, 100% virtually.
A lady who worked at the local casino attended my online retirement webinar. During that webinar, she completed a digital form to request a one-on-one telephone appointment. On that one hour call, the client and I were able to connect amazingly well despite being unable to meet in person. We discussed this lady's life, family, work, and vision for life after work. I found it interesting that, because she worked at a casino, she had no problem understanding the problem of taking on too much risk later in life. She asked me questions about how to improve her odds of retirement success and protect the money she had worked so hard to accumulate. She wanted to reposition her savings to ensure she wouldn't run out of money in retirement.
I was amazed that the call seemed natural, open, and warm, despite the distance between us. I sent her (via email) an application and set up a time to go over it, item by item. I helped her fill in all the blanks, put the pages needing signatures into a bag, and dropped it off at her home for her to sign. After she signed and put the documents into the bag, I returned to retrieve it. And, we still did not meet in person!
When the policy copy arrived, I repeated that protocol. This time, though, the client answered the door, and we got to talk, albeit 8 feet apart. My client said that having her safe money plan helped her sleep better at night. She also appreciated not having to worry about catching the virus.
If you're a retiree or pre-retiree, you should be paying close attention to what your advisor is doing during the pandemic. If you choose to meet in person, your advisor should:
Have only one client at a time in the office
Require a mask and be wearing a mask themselves
Make an extra effort to clean and disinfect all surfaces
Maintain the correct social distance at all times.
If you don't want to meet in person, your advisor should:
Conduct online meetings
Offer secure, encrypted uploads and downloads of your personal information
Communicate regularly via phone, text, and email
Provide digital copies of all documents and online account access
Be willing to deliver paper documents as needed safely
Offer a way for you to sign your documents digitally
The bottom line is that a competent agent or advisor always cares about their clients' well-being, safety, and convenience.
Don't be afraid to tell them your concerns, especially when it comes to the COVID-19 virus. Also, be sure to ask yourself these critical questions:
Is your advisor doing everything they can to ensure your safety and peace of mind during the pandemic, or has it gotten difficult for you to interact with them?
Do they have protocols in place so that your retirement plan functions smoothly, or do they seem lost and confused in the digital world? COVID-19 has made things somewhat complicated, at least for the foreseeable future. But that doesn't mean you want to postpone your financial plans or fail to keep tabs on your portfolio. With some foresight and planning, you can do more virtually than you ever thought possible and keep yourself and your family safe.
All investment strategies have the potential for profit or loss. Annuity and life insurance guarantees are subject to the claims-paying ability of the issuing insurance company. If you withdraw money from or surrender your contract within a certain period of time after investing, the insurance company may assess a surrender charge. Withdrawals may be subject to tax penalties and income taxes. Persons selling annuities and other insurance products receive compensation for these transactions. Insurance products are subject to fees and additional expenses.