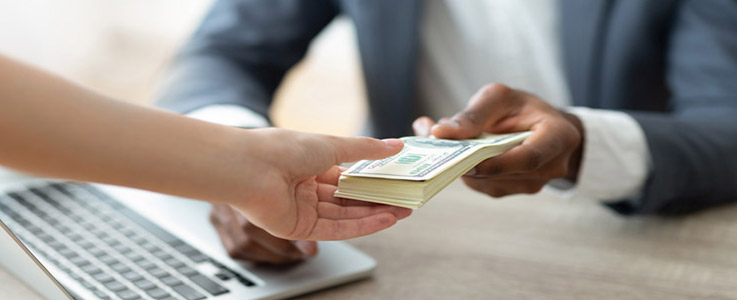 Economic Woes Push More Americans Into Predatory "Quick Cash" Loans
"If you are experiencing a cash crunch, a payday loan or another type of high-interest loan may seem like your only alternative. Before you act, check with your financial advisor to see what else you could do to get some fast cash. -Paul Hubbard III.
No matter what politicians and talking heads on the nightly news tell you, there is nothing ordinary about our economy right now. Inflation rates are the highest in over 40 years, while consumer confidence has hit record lows. Calls to charities that help people in dire need of financial assistance have spiked as much as 400%.
While most people understand the dangers of payday loans, some of which may charge as much as 500% interest (!), those with poor credit or spotty work histories may believe they have no other choice. Even people with solid payment histories and solid relationships with their financial institutions are having trouble getting loans and are turning to predatory lenders for help. Over 40% of all new payday loans in the past year were issued to first-time borrowers struggling to feed their kids and fill their gas tanks.
How can you spot a potentially predatory loan?
Financial experts define predatory lending as the practice of loaning money and charging fees and interest rates that are in the triple digits.
Such loans may also have hidden administrative costs or terms that trap the borrower into an unending cycle of debt. While not all quick loans are scams or fall into a "predatory" category, an increasing number are.
If you think you might need a short-term loan, you should understand the red flags pointing to a possible predatory situation. These red flags include:
The loan has excessively high interest rates. If your loan proposal shows high interest rates, perhaps in the triple digits, you are probably looking at a predatory loan.
Loan agreements are confusing or obfuscated. When reading a loan agreement, it should be reasonably easy to understand how interest will be structured and applied to your payments. Predatory loan advertisements and proposals tend to emphasize nominal (monthly) interest rates over annual rates. Slick marketing could cause you to underestimate the actual cost of your loan.
You see tacked-on charges for loan services and other costs. Lenders often charge you for extras you don't want or need. Many times they don't disclose it, either. Predatory lenders may sneak in fees for credit insurance or roadside assistance for car title loans.
There's no credit check at all. If a potential lender doesn't require any credit checks, you may be dealing with a predatory company.
The loan proposed is a high-risk secured loan. Unethical lenders may lure prospective borrowers into signing for loans they cannot afford, securing those loans with cars, homes, boats, or other property. If the borrower defaults, the lender takes the collateral, which could be devastating.
The loan people rush things. Instead of encouraging you to vet and review contracts and read the fine print thoroughly, predatory lenders often do the opposite. They try to hurry things along, prodding you to sign on the dotted line as quickly as possible. Many predatory lenders give you little time to read and understand the terms or determine if the math makes sense. If you're feeling pressure to commit, it's a warning sign.
Bottom line: It's normal for most people to have occasional cash flow issues. Even responsible, financially literate people encounter circumstances where they need quick access to money. However, you should beware of too good to be true, predatory loans. Such easy money could lead to you becoming trapped in a cycle of debt and might even result in losing your home, business, or automobile.
Before considering a payday or other fast loan, consult your financial advisor to see what other options you might have.