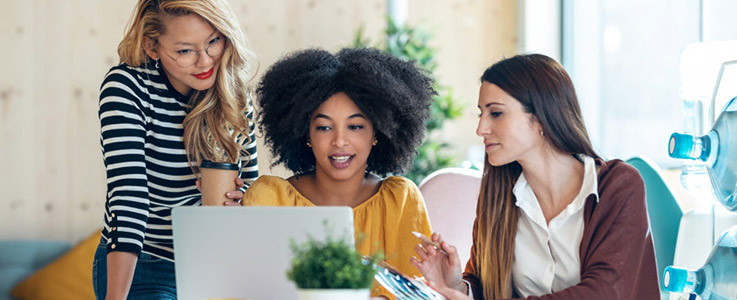 Are You A Woman Planning To Start A New Business? Plan Your EXIT First.
"Even if you think you'll work in your business forever, you still need to create your "just in case" exit blueprint." Bernadette Broughton
Well-known author and educator Stephen Covey wrote that all things are created twice-first in the mind and later in the real world. Covey's famous quote, "Begin with the end in mind," is based on this idea.
If you want to make your dreams come true, wrote Covey, you must visualize your life, desires, and your entrepreneurial goals by focusing on how you want things to end rather than how you want them to start. A conscious effort to see the ending first allows you much greater control over your life and addresses circumstances that threaten the success of your business.
For these reasons, I encourage both my male and female business owner clients to make a business succession (exit) plan in the early stages of their ventures. Even if you believe you will stay in your company until you die, business exit planning will provide a sense of clarity, focus, and peace of mind.
Having an exit blueprint that you revisit and update regularly can motivate and inspire you to exceed your original goals. On a practical level, an exit strategy gives key employees and family members much-needed guidance when you no longer run the company.
Designing an exit strategy at the beginning of your venture helps you avoid the fate of 48% of all business owners in the United States with no formalized succession plan in place years after they start their companies. One study by the Harvard Review found that women entrepreneurs were 15% more likely to leave their businesses for personal reasons, such as caring for an elderly parent, than their male counterparts. This means that while exit planning is critical for all business owners and self-employed professionals, it is even more necessary for female owners. Without an exit plan, your "baby," the business you into which you poured your heart and soul, might be lost forever.
What is an exit plan, anyway?
I like to think of an exit plan as a type of will for your business. It's a comprehensive road map that provides insights into every aspect of transitioning out of a privately owned company. Your exit plan must consider all personal, financial, tax, and legal issues encountered when selling or passing on your company. Exit plans must be comprehensive and realistic, providing an actionable strategy for a smooth transition.
Exit blueprints typically have three main objectives:
Maximizing your company's value should you decide to sell.
Ensuring that you are financially and personally prepared to exit.
Discovering how you want the next phase of your life to look.
A well-designed exit plan includes these essential elements:
A concise statement that includes business, personal, and family or estate goals.
A professionally executed business valuation that sets a baseline for the company's value.
A list of specific ways you can increase the company's value before you leave.
A report on the pros and cons of every different exit alternative from selling the company to leaving it to a family member or key employee.
An analysis of the tax implications of your business exit, such as potential capital gains, ordinary income tax, or estate tax liabilities.
A detailed "action plan" outlining specific steps you will be taking to prepare for your exit.
No one likes thinking about the many life situations that could force you to leave your successful business. However, failure to create an exit plan could negatively affect you, your employees, customers, and family members. Contact a financial expert who understands women-owned businesses and the nuances of well-crafted exit blueprints.