The DOL should keep their grimy hands off our business
I have been writing about and watching with great curiosity about how the government moves more and more to control most aspects of our lives. The sheer ignorance of the new DOL proposal for new "rules" show a complete deftness towards how we as citizens would even consider living our lives. Their definition of exactly what a "fiduciary" means is about as vague as it could be and that leaves open the door for government interference and their interpretation of the rules. We, as small independent salespeople, will be at their mercy for a straightforward reason, the federal government has no limitation on what they can spend to prove their legal point.
Dr. Jack Marrion is a nationally known authority on the annuity industry. Recently he wrote an article about how damaging the new DOL rules could be to the annuity industry.
I have enclosed a link for you to Dr. Marrion's article:
http://www.prnewswire.com/news-releases/dr-jack-marrion-and-americans-for-annuity-protection-release-new-study-the-flawed-arguments-of-a-fiduciary-only-rule-300107969.html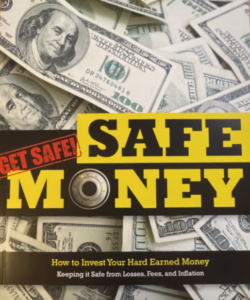 Premium gift for you for registering for my newsletter
I am a member of Syndicated Columnists, a national organization committed to a fully transparent approach to money.
Interested in additional information? Register for my FREE bi-monthly newsletter, "Layin' it on the line." It contains information that other people have found beneficial. I will never sell your information.
For registering, I have a Premium Gift for you.
Our 15th edition, "Safe Money Book" a $20 value
77,000 copies in circulation
Learn the basics of a Safe Money approach to investing.
And it is FREE with your "Layin' it on the line" newsletter