Planning for your retirement years can be a confusing and complicated process, and Alpha Management Partner Ryan P Urban can bring a truly unique background and skill set to your personal retirement planning strategy.
As a Partner with Alpha Management Inc., Ryan has significant experience in working with individuals and families as a fully-licensed Financial Specialist. There is a wide and ever-growing menu of investing and planning options, and Ryan's ability to match the individual and their personal situation, needs and goals with the right strategy is at the core of Alpha's approach.
In fact, you may not meet another financial services professional with a stronger, wide-ranging and relevant professional background than Ryan. Here's an overview:
As a Dave Ramsey-endorsed SmartVestor Pro, Ryan regularly works with listeners of the national radio host and author as they navigate the world of personal finance, from eliminating debt to building and maintaining a dynamic, long term investment portfolio.
As Host of Retirement & Income Radio Show on KVOR AM and KRDO AM/FM in Colorado Springs, Ryan focuses on those nearing or in retirement with

specialized strategies designed to remove risk, enjoy market-based gains, and create a lifetime of guaranteed income free from dangerous stock market crashes.
But there is far more to the aging and retirement process than investing. Health care and Social Security benefits also play a key retirement role for most people, and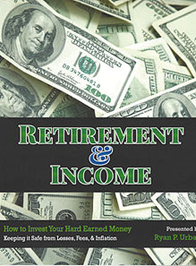 Ryan was formerly a Director for a Fortune 100 Medicare Insurance/Financial Services corporation. Ryan personally assists clients in choosing the right Social Security income strategy and in choosing the most appropriate health insurance coverage available.
And Ryan brings even more direct experience to your retirement planning process. Prior to entering financial services in 1999, Ryan was Executive Director of a large Colorado Home Health Care company, which provided a wide range of in-home medical and non-medical assistance to Colorado seniors. This experience gave Ryan an intimate understanding of the health, financial and family issues most of us will face as we age.
Ryan has long been an active member of the Colorado Springs senior community, hosting a radio show called "Senior Focus" on KCMN-AM, and serving as Treasurer on the Board of Directors of the Friends of the Colorado Springs Senior Center non-profit.
Ryan is also the Author of "The Business Owner's Guide to MONEY", and is a regular contributor to the Business.com website.
Ryan has been a musician since the age of five, and has been a resident of Colorado Springs since 1983. He and his wife Diana have been married since 1982, and are proud parents of two beautiful daughters, Shannon & Megan.
________________________________________
Alpha Management / Alpha Financial
www.AlphaFinancial123.com /  www.alpha4business.com
Ryan P. Urban
Partner, Alpha Financial
7035 Campus Drive
Colorado Springs, CO 80919
Phone: 719-659-9190
Fax: 888-266-8193