Meet Rosa Shala, CFP®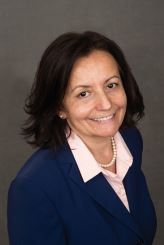 My dad passed away, leaving behind my mom with five children between the ages of 13 and 20. Only a little over a decade earlier, my parents had struggled to come to America, the promised land of new opportunities, and then she was left fighting to raise us. I saw the significance the passing of my dad had on my mom. My mother continued to work very hard for many years to raise us, plan for college, and our weddings all the while keeping everything together, and then ultimately her own retirement.
Seeing the impact this transition had on my mother, my passion has been to help women who find themselves single due to divorce or death. As a woman in this position, you are probably overwhelmed with many decisions regarding independence, security, retirement, income, where to live, legacy, and many others.
Saving for retirement is not something you want to leave to chance. You've been so purposeful and dedicated to your family, and my goal is to make sure that legacy continues. Hoping nothing else happens is not a solution.
I know you have questions as you're transitioning:
"Will I be able to maintain the lifestyle I desire?"
"Will I outlive my money?"
"Am I leaving myself open to unnecessary risks in my portfolio or finances?"
"What happens if my health fails or there is a care situation?"
The positive here is I have helped lots of women with:
✅ Getting clarity with financial uncertainty
✅ Creating financial security and freedom
✅ Maintaining their independence
I pride myself on working with women in transition that seek the guidance of a professional. I cannot help every situation, but if there is a clear benefit for us to get together, we will begin the process of creating and implementing your new plan immediately.
Learn more about Rosa and her no-nonsense approach to Retirement Planning:

Rosa Shala, CFP®
Retirement Specialist
(352) 207-7920
rosa@shalafinancial.com
www.shalafinancial.com