Meet LaRoy Mack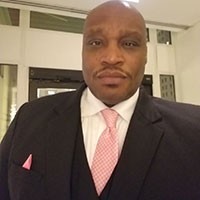 My name is LaRoy Mack, and I have been a small business owner for close to twenty years. Over my career, I have had the privilege of helping many people achieve their personal financial goals and retire with confidence.
Before financial services, my background included being in social services, where I helped children and families. That passion for others continues to this day and is at the heart of everything we do.
With all of the options out there for financial help, it can be confusing and hard to find the right partner to guide you. At Safe Money Experts, we keep things simple and start with the basics. My strongest asset is educating people on their money. I will help give you a strong financial foundation to build on and achieve your goals from there. It is all about you and the goals you wish to accomplish.
When not working with clients, I enjoy spending time with my wife and our sons. At different times, our family has opened our home to 11 children who needed us. I enjoy making a difference and am here to assist you however I can. Please feel free to contact me to have a personal discussion about what is important to you and how we can help you

1820 Ridge Road, Suite 303b, Homewood, IL 60430
LaRoy.Mack@RetireVillageMail.com
https://www.safemoneyexperts.com/