Meet David Geake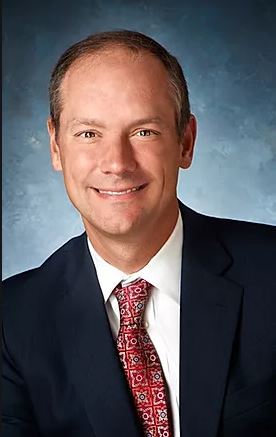 I grew up in Northfield, IL, which is one of the northern suburbs of Chicago. I attended New Trier High School before graduating from Trinity University in San Antonio, TX, where I studied economics and finance. My wife, of more than 22 years, and I are raising five athletic children, ages 18, 17, 15, 15, and 13.  From volleyball and baseball games to piano recitals and volunteering, our children certainly don't have a lack of energy.  All of our children attended Christian Heritage Academy.
To help endure the long Chicago winters, my wife and I are extremely active in the sport of curling at both the Chicago Curling Club and Exmoor Country Club.  In 2009 I enjoyed the wonderful experience of trying out for the Olympics.  Although our team came up short, I have used those memories many times to encourage my children to pursue their passions.  In 2012, I became the youngest President of the Chicago Curling Club. During the summers, I love taking RV trips (most of which include countless roller coasters), attending my twin boys' baseball games, in addition to playing golf with the kids. I am also an active member of the Glenview Optimist Club for more than 20 years, where I volunteer to bring a drug-free message to area youths.  I was blessed and honored to receive recognition for being Glenview's "Optimist of the Year" on two separate occasions, most recently in 2014.
I have been a Certified Financial Planner™ since 2001.  At WM Financial Network we focus on passionate people who desire to plan for and to live out a dynamic retirement.  Within our network, we have access to a team of professionals with expertise in a variety of areas, including income planning, estate planning, tax planning, investments, health insurance, and social security.  Our office location is 40 Skokie Blvd, Suite 150, Northbrook.  My favorite client events include an annual summer cookout at our home, a shred fest, our holiday pie giveaway, and a variety of educational events throughout the year.  My children's competitive spirit is on full display when playing various lawn games with my clients during our annual cookout.
Learn more about David and his no-nonsense approach to Retirement Planning:
40 Skokie Blvd, #150, Northbrook, IL 60062
https://www.askwmfn.com/about-wmfn
(847) 564-9900
Securities and advisory services offered through American Trust Investment Services, Inc. Member FINRA/SPC. 1244 119th Street, Whiting, IN 46394. 219-473-5542. WM Financial Network and American Trust Investments Services, Inc are separately owned and operated.