Kentucky Retirement Systems outsourced pension money with excessive fees
Kentucky state employees recently filed suit against several private equity firms and their failure to provide rates of returns as expected. According to the lawsuit, Kentucky Retirement Systems, invested between $1.2 billion and $1.5 billion, with:
• Blackstone Group
• KKR
• Capital Partners and
• Pacific Alternative in August 2011.
Based on the sales pitches, KRS trustees expected lower risk, increased liquidity and returns of 7.75% on an ongoing basis without market risk.
The investments delivered on none of these things, the lawsuit says, but "They did generate excessive fees for those hedge fund sellers, poor returns and ultimately losses for the funds, in the end damaging KRS and Kentucky taxpayers."
The lawsuit also names several members of the Kentucky Retirement System board of members. The board is entrusted with the responsibility of maintaining control over who manages employee's retirement funds. Additional management issues are also affecting the retirement fund for Kentucky employees, the amount of promised benefits is in excess of $26 billion more than is available. I guess the question to ask is how did the retirement system in Kentucky get in this mess?
Amazingly, an organization the size of Kentucky can be so duped into thinking that they can receive benefits of an expected 7.75%.
How insane.
Safety, security, liquidity, and returns far more than the norm, who was possibly watching the hen house when these foxes came around?
Here is the link: http://www.thinkadvisor.com/2017/12/28/kentucky-pension-sues-over-black-box-hedge-funds?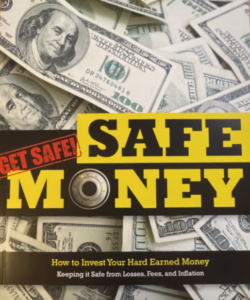 Premium gift for you for registering for my newsletter
I am a member of Syndicated Columnists, a national organization committed to a fully transparent approach to money.
Interested in additional information? Register for my FREE bi-monthly newsletter, "Layin' it on the line." It contains information that other people have found beneficial. I will never sell your information.
For registering, I have a Premium Gift for you.
Our 15th edition, "Safe Money Book" a $20 value
77,000 copies in circulation
Learn the basics of a Safe Money approach to investing.
And it is FREE with your "Layin' it on the line" newsletter