Is guaranteed lifetime income important to you?
From time to time clients ask me for an analogy about what Fixed Indexed Annuities are and how insurance carriers can provide upside potential and growth while insulating the annuity owner from downside market risks.
An analogy from the world of real estate investing may help understand the concept. Many real estate investors would be pleased buy a commercial property and to write a lease to gain a predictable stream of lease income by leasing the property to a financially healthy insurance company.
You could think of a FIA as "leasing" your money to the same insurance company that you'd be pleased to have as a tenant in your commercial building. Naturally, you would try to include lease provisions for escalations in the monthly lease payments depending on the success of future business and economic conditions.
Contemporary FIAs feature such terms as being able to receive known income for as long as you and a spouse live. Your income can rise under a variety of economic conditions, and that you can withdraw large amounts of cash from the FIA to meet changing life situations. The remaining value in the account after you've received distributions can be available to your designated beneficiaries.
Clients ask how the principal value in a FIA can grow with rising markets but does not diminish in falling markets. That is because of how the insurance company issuing the annuity makes money in trading certain financial instruments. Much as a real estate investor can lock in potential future profits in real estate via option agreements; insurance companies can trade in option on financial instruments.
Thus just as if you had an option to purchase a building if the price had escalated and that you have no obligation under the option to complete the purchase if the price has dropped, the insurance company completes "in the money" option purchases and lets non profitable options naturally expire. Thus they can protect trading profits and the value of your accounts.
What many people are doing today is using FIAs to guarantee their core future income needs while insulating those same funds from the risk of draw downs in the equity markets. These people are de-risking their most essential funds significant market value downturns that have been a historic part of the equity markets.
Individuals desiring to explore how they may protect a portion of their portfolio and to lock in future income guaranteed by some of the most powerful financial companies are invited to drop us a line.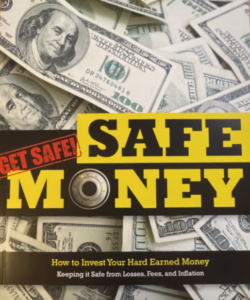 Premium gift for you for registering for my newsletter
I am a member of Syndicated Columnists, a national organization committed to a fully transparent approach to money.
Interested in additional information? Register for my FREE bi-monthly newsletter, "Layin' it on the line." It contains information that other people have found beneficial. I will never sell your information.
For registering, I have a Premium Gift for you.
Our 15th edition, "Safe Money Book" a $20 value
77,000 copies in circulation
Learn the basics of a Safe Money approach to investing.
And it is FREE with your "Layin' it on the line" newsletter