An insurer rated 'R' is under regulatory supervision due to its financial condition. During the regulatory supervision, the regulators may have the power to favor one class of obligations over others or pay some obligations and not others. The rating does not apply to insurers subject only to non-financial actions such as market conduct violations.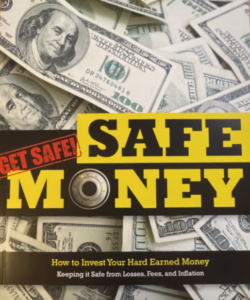 Premium gift for you for registering for my newsletter
I am a member of Syndicated Columnists, a national organization committed to a fully transparent approach to money.
Interested in additional information? Register for my FREE bi-monthly newsletter, "Layin' it on the line." It contains information that other people have found beneficial. I will never sell your information.
For registering, I have a Premium Gift for you.
Our 15th edition, "Safe Money Book" a $20 value
77,000 copies in circulation
Learn the basics of a Safe Money approach to investing.
And it is FREE with your "Layin' it on the line" newsletter