Retirement annuities can refer to many different types of investment vehicles. But in general these are 'old style' individual pension plans. These types of retirement annuities were similar in nature to personal pension plans, which allowed you to take a greater amount of your pension fund at retirement as a tax-free lump sum but insisted that you should normally be at least 60 years old before gaining the benefits.
Retirement annuities can be immediate, deferred or even fixed or variable. In general, retirement annuities are can mean many things to many different people. It is important to understand every form of retirement planning before simply jumping into retirement annuities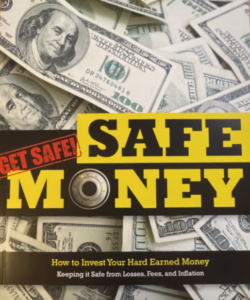 Premium gift for you for registering for my newsletter
I am a member of Syndicated Columnists, a national organization committed to a fully transparent approach to money.
Interested in additional information? Register for my FREE bi-monthly newsletter, "Layin' it on the line." It contains information that other people have found beneficial. I will never sell your information.
For registering, I have a Premium Gift for you.
Our 15th edition, "Safe Money Book" a $20 value
77,000 copies in circulation
Learn the basics of a Safe Money approach to investing.
And it is FREE with your "Layin' it on the line" newsletter