(Premature Distribution Penalty.) Withdrawals made from certain tax-favored plans may be subject to an additional 10% federal income tax if the withdrawal is made before the contract owner reaches age 59 1/2. Certain exemptions do apply. The contract owner should seek legal and tax advice before making plan withdrawals.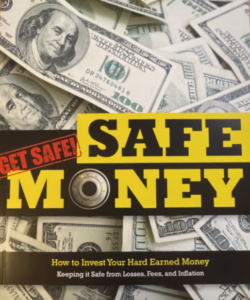 Premium gift for you for registering for my newsletter
I am a member of Syndicated Columnists, a national organization committed to a fully transparent approach to money.
Interested in additional information? Register for my FREE bi-monthly newsletter, "Layin' it on the line." It contains information that other people have found beneficial. I will never sell your information.
For registering, I have a Premium Gift for you.
Our 15th edition, "Safe Money Book" a $20 value
77,000 copies in circulation
Learn the basics of a Safe Money approach to investing.
And it is FREE with your "Layin' it on the line" newsletter