The "Exchange" or "Big Board" are nicknames for the New York Stock Exchange. More than 2000 common and preferred stocks are traded daily at the exchange. It is the oldest in the United States, dating to 1792, and is the largest. The NYSE is located on Wall Street in New York City.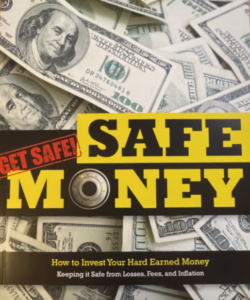 Premium gift for you for registering for my newsletter
I am a member of Syndicated Columnists, a national organization committed to a fully transparent approach to money.
Interested in additional information? Register for my FREE bi-monthly newsletter, "Layin' it on the line." It contains information that other people have found beneficial. I will never sell your information.
For registering, I have a Premium Gift for you.
Our 15th edition, "Safe Money Book" a $20 value
77,000 copies in circulation
Learn the basics of a Safe Money approach to investing.
And it is FREE with your "Layin' it on the line" newsletter