An IRA is a tax-advantaged personal savings plan that lets an individual set aside money for retirement. All or part of the participant's contributions may be tax deductible, depending on the type of IRA chosen and the investor's personal financial circumstances. Distributions from many employer-sponsored retirement plans may be eligible to be rolled into an IRA to continue tax-deferred growth until the funds are needed.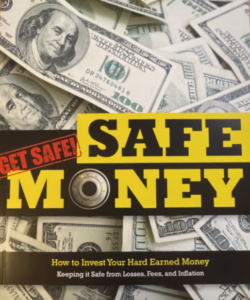 Premium gift for you for registering for my newsletter
I am a member of Syndicated Columnists, a national organization committed to a fully transparent approach to money.
Interested in additional information? Register for my FREE bi-monthly newsletter, "Layin' it on the line." It contains information that other people have found beneficial. I will never sell your information.
For registering, I have a Premium Gift for you.
Our 15th edition, "Safe Money Book" a $20 value
77,000 copies in circulation
Learn the basics of a Safe Money approach to investing.
And it is FREE with your "Layin' it on the line" newsletter