An Indexed Annuity is an annuity based on a statistical indicator, the equity market index, which provides a representation of the value of the securities, which constitute it. An index annuity is a hybrid of both fixed and variable annuities. Indices often serve as guides for a given market or industry and benchmarks against which financial or economic performance is measured. An indexed annuity can be based on the S&P, Nasdaq, or the DJIA
The principal investment into the indexed annuity is protected from losses in the equity market, while gains add to the annuity's returns. This means that once you make a premium payment you will never have less in your indexed annuity account than your premium payment, and as the index appreciates in value, so does the Indexed annuity. Indexed annuities can be a wise investment and become a great source of additional income revenue.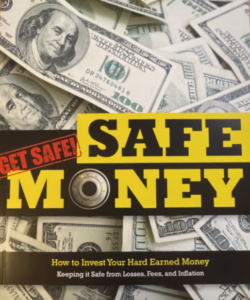 Premium gift for you for registering for my newsletter
I am a member of Syndicated Columnists, a national organization committed to a fully transparent approach to money.
Interested in additional information? Register for my FREE bi-monthly newsletter, "Layin' it on the line." It contains information that other people have found beneficial. I will never sell your information.
For registering, I have a Premium Gift for you.
Our 15th edition, "Safe Money Book" a $20 value
77,000 copies in circulation
Learn the basics of a Safe Money approach to investing.
And it is FREE with your "Layin' it on the line" newsletter