An immediate annuity is an annuity which is purchased with a single payment and which begins to pay out right away. When you purchase an immediate annuity, it is generally with a single lump sum, and your income payments begin within 12 months of the date of purchase. With fixed immediate annuities, your payment from the annuity is based on a fixed interest rate. With variable immediate annuities, your payment is based on the value of the underlying investment, usually a stock portfolio.
After choosing an immediate annuity the annuity owner determines the schedule of payments. This can be done either monthly, quarterly, semiannually or annually. Another important decision to make with your immediate annuity is how long the payments will last. The annuity owner can choose to receive payments for a specified period of time, an entire lifetime or even for the life of a beneficiary.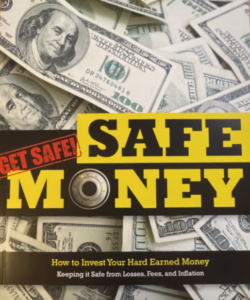 Premium gift for you for registering for my newsletter
I am a member of Syndicated Columnists, a national organization committed to a fully transparent approach to money.
Interested in additional information? Register for my FREE bi-monthly newsletter, "Layin' it on the line." It contains information that other people have found beneficial. I will never sell your information.
For registering, I have a Premium Gift for you.
Our 15th edition, "Safe Money Book" a $20 value
77,000 copies in circulation
Learn the basics of a Safe Money approach to investing.
And it is FREE with your "Layin' it on the line" newsletter