An excess IRA contribution is one that exceeds the combined deductible and nondeductible limits established by the IRS. If an excess contribution is not removed prior to the tax return due date (including extensions) by the contributing individual, the excess contribution is subject to the 6% excise tax in the year of contribution. The excess will be carried over and subject to excise tax each year thereafter until it is removed. It is the responsibility of the client to file Form 5329 to calculate his or her penalty.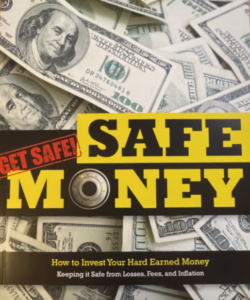 Premium gift for you for registering for my newsletter
I am a member of Syndicated Columnists, a national organization committed to a fully transparent approach to money.
Interested in additional information? Register for my FREE bi-monthly newsletter, "Layin' it on the line." It contains information that other people have found beneficial. I will never sell your information.
For registering, I have a Premium Gift for you.
Our 15th edition, "Safe Money Book" a $20 value
77,000 copies in circulation
Learn the basics of a Safe Money approach to investing.
And it is FREE with your "Layin' it on the line" newsletter