Your initial payment/premium(s) paid to a nonqualified annuity is known as the cost basis in your contract. Since it was previously taxed, your cost basis will not be taxed upon withdrawal. If a previous distribution was not fully taxable, the cost basis would be reduced by the amount that was not taxable. For contracts purchased after August 14, 1982, a "withdrawal" must come from earnings first for tax purposes, and any amounts in excess of your cost basis will be taxed as ordinary income (an additional 10 percent "federal income" tax penalty may apply for those less than 59 1/2 years of age) upon withdrawal.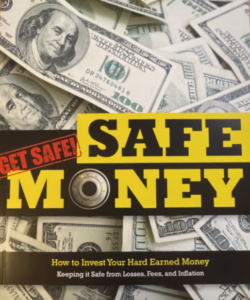 Premium gift for you for registering for my newsletter
I am a member of Syndicated Columnists, a national organization committed to a fully transparent approach to money.
Interested in additional information? Register for my FREE bi-monthly newsletter, "Layin' it on the line." It contains information that other people have found beneficial. I will never sell your information.
For registering, I have a Premium Gift for you.
Our 15th edition, "Safe Money Book" a $20 value
77,000 copies in circulation
Learn the basics of a Safe Money approach to investing.
And it is FREE with your "Layin' it on the line" newsletter