These trusts provide income-either a percentage or a specified amount-to a Foundation for a specific number of years. At the termination of this period, the principal is returned to the donor or others whom the donor has designated. Under one type of charitable lead trust the donor includes the income in his or her taxable income, but is entitled to a corresponding charitable deduction if he or she itemizes the amount of income paid to the Foundation in that year.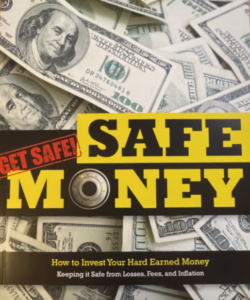 Premium gift for you for registering for my newsletter
I am a member of Syndicated Columnists, a national organization committed to a fully transparent approach to money.
Interested in additional information? Register for my FREE bi-monthly newsletter, "Layin' it on the line." It contains information that other people have found beneficial. I will never sell your information.
For registering, I have a Premium Gift for you.
Our 15th edition, "Safe Money Book" a $20 value
77,000 copies in circulation
Learn the basics of a Safe Money approach to investing.
And it is FREE with your "Layin' it on the line" newsletter