A charitable gift annuity is a contract between a donor and a foundation, under which the foundation guarantees payment of an annuity, unlike a trust which pays the annuity from its assets alone. Two features in particular make charitable gift annuities appealing. An individual may specify whether he or she wants an immediate annuity, with payment to begin not later than one year from the date of the gift, or a deferred gift annuity, from which payments are not to begin until a specified future date. In addition, the income stream from such an arrangement can be higher than current market rates.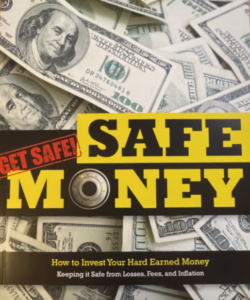 Premium gift for you for registering for my newsletter
I am a member of Syndicated Columnists, a national organization committed to a fully transparent approach to money.
Interested in additional information? Register for my FREE bi-monthly newsletter, "Layin' it on the line." It contains information that other people have found beneficial. I will never sell your information.
For registering, I have a Premium Gift for you.
Our 15th edition, "Safe Money Book" a $20 value
77,000 copies in circulation
Learn the basics of a Safe Money approach to investing.
And it is FREE with your "Layin' it on the line" newsletter