Fixed Indexed Annuities are very popular
Baby Boomers are looking for a system that will provide income regardless of how long they live. It's financial outsourcing of responsibility. Fixed Indexed Annuities (FIA) are answering the call, sales are way up.
A recent industry watchdog report indicated an increase of over 25% in premium in 2012 and a forecast for another 30% increase in 2013. Growth is being driven by products offering access to a larger stream of income that would not be found with other investment options.
Income for life that is both safe and secure seems to be the driving force.
The report cites a survey where 49 percent of retirees stated they retired before age 65. This means many Americans may be spending 30-plus years in retirement. Having the ability to receive income without fear of running out of money is the driving force.
Here is a video that explains how these new products (Fixed Indexed Annuities) can provide you with lifetime income benefits: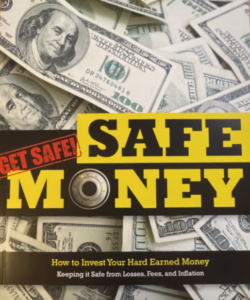 Premium gift for you for registering for my newsletter
I am a member of Syndicated Columnists, a national organization committed to a fully transparent approach to money.
Interested in additional information? Register for my FREE bi-monthly newsletter, "Layin' it on the line." It contains information that other people have found beneficial. I will never sell your information.
For registering, I have a Premium Gift for you.
Our 15th edition, "Safe Money Book" a $20 value
77,000 copies in circulation
Learn the basics of a Safe Money approach to investing.
And it is FREE with your "Layin' it on the line" newsletter