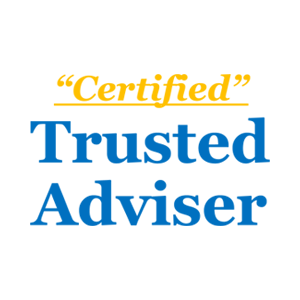 "Trust starts with truth and ends with truth." Santosh Kalwar
Only Insurance Agents and Advisers who conduct themselves at the highest possible business and personal level can qualify for this designation. Vetting for this designation involves personal background checks, industry background checks, business and personal history, moral issues, and personal conduct.
Agents who are awarded this designation service their customers with knowledge and integrity by providing educational resources and content as well as promoting the ethical side of their business.
CTA designees are devoted to aiding clients with the increasingly complex task of conducting a deeper understanding of their client's needs and goals. The result is greater peace of mind for skeptical consumers and those concerned about dealing with an advisor based on honesty and integrity.
The Certified Trusted Adviser designation provides the consumer with confidence that any business relationship will is based on honesty, openness, and an ethical approach.
Our vetting process and due diligence approach examine numerous issues such as licensing, moral and ethical issues, business history, past and current working situations, industry complaints, business complaints, and many other issues.
Once your agent has achieved this designation, you can be assured he or she is operating their business and personal life at the highest possible levels. The result is greater peace of mind for skeptical consumers and also rewards those worthy of their trust.