Our product has evolved into the mainstream (or vice versa) of important retirement planning. It now offers guaranteed income riders that have changed the way retirement is planned. And yet, it was only ten years ago at a meeting in Des Moines when Sheryl Moore first suggested that a guaranteed income rider sitting on the shoulders of a Fixed Indexed Annuity would be a great tool. A tool not only for agents but for those whose future would come to depend on it.
Sheryl asked this question, a question that changed the direction of annuities:
"If guaranteed lifetime income is the greatest value proposition of deferred annuities, why do only 2% of clients annuitize?"
The answer is why and how our industry has evolved into the powerhouse it has become. During the research that followed many questions were asked and many questions were answered.
Annuitization lacks flexibility, access to funds, money in the annuitized account was no longer available.
Annuitization is permanent, and once the trigger is pulled, it cant be changed
With the introduction of Guaranteed Lifetime Withdrawal Benefit (GLWB), new uses for annuities began to develop. Initially, GLWBs were used in variable annuities and fees were charged for them. The industry saw an increase of nearly 80% being selected as added riders on the variable annuity contract. The need was there, and the GLWB was the answer.
Evolution eventually brought eh GLWB to the Fixed Indexed Annuity world, and everyone has benefited. Now Baby Boomers have access to guaranteed products and better than that, they have access to guaranteed income, the future will never be the same.
It would be so exciting if I could look ahead to what will happen to our products in the next 10-20 years. Heck, in 5 years think what they will have to offer?
Could the future be any brighter?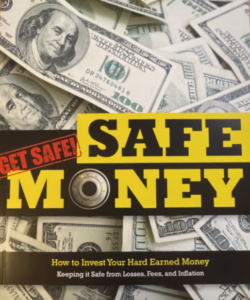 Premium gift for you for registering for my newsletter
I am a member of Syndicated Columnists, a national organization committed to a fully transparent approach to money.
Interested in additional information? Register for my FREE bi-monthly newsletter, "Layin' it on the line." It contains information that other people have found beneficial. I will never sell your information.
For registering, I have a Premium Gift for you.
Our 15th edition, "Safe Money Book" a $20 value
77,000 copies in circulation
Learn the basics of a Safe Money approach to investing.
And it is FREE with your "Layin' it on the line" newsletter