Ashok Ramji Safe Money Radio Show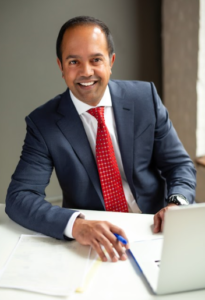 Ashok Ramji is the host of Safe Money Radio. He has made his career of 20 years in the Financial Services and Insurance business.  Ashok has a passion for helping clients understand how they can have growth without the market risks that a traditional approach may face. He accomplishes this with a planned, custom-tailored approach to his client's situation that's designed to protect them from any market downside and yet provide for the retirement account to grow and flourish. This approach combined with the right planning allows his clients to put in place a worry-free guaranteed lifetime income plan.
As a licensed insurance professional and investment advisor representative with TOP Planning LLC, Ashok helps people accumulate wealth while eliminating risks that are common to market investing. Ashok graduated from UCLA in 1996 with a Bachelor of Science degree in Mathematics/Applied Science with a Specialization in Business & Administration.
Learn how others have benefited from listening to Ashok's no-nonsense approach to retirement planning.
KLFE-AM "1590 The Answer" Seattle, WA
Saturday 4pm-5pm
KVI AM "Talk Radio" 570 Sundays at Noon:  12:00 pm — 1:00 pm
You can reach Ashok at:
Ashok S. Ramji
TOP Planning LLC
601 108th Avenue NE, Suite 1900
Bellevue, WA 98004
(425) 777-PLAN (work)
(800) 777-5695 (toll-free)
(425) 970-8200 (mobile)