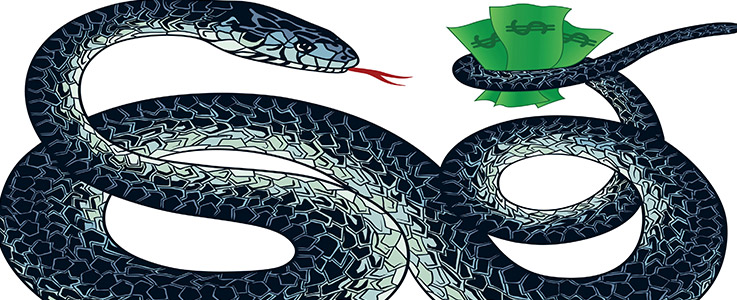 The Elusive Market Sidewinder Hidden But In Plain Sight
Like the elusive Sidewinder Snake, the elusive "Market Sidewinder" buries itself in the sand of financial data we take in, staying calm and waiting for the right opportunity to reach out and bite us.
The Sidewinder Snake is unique, able to travel sideways speedily at 18 mph across the sand. His method for getting his next meal is burying his body in the sand with only an eye or two visible. His entire body camouflages within the sandy environment so perfectly that his prey cannot distinguish him. Therefore he has the element of surprise. The element of surprise in our financial markets is so elusive and powerful that even the most experienced and sophisticated advisers and market players are often caught off guard at different times.   If only you could know the stock market in advance!
If only we had a crystal ball to gaze into the future and understand what the markets will do. If only we had a surefire mathematical equation that could figure out and know the market's future!!  Like the famed inventor and owner of Ronco, Ron Popeil used to say, just "Set it and forget it"!  If we could only do that with our retirement account! Does such an account exist? The answer is yes! There is such an account.
What did I say? Yes, there is such an account. It's called a "Fixed Indexed Annuity." There usually are one or more Indexes and several strategies within each annuity that you can pick from and:
"Set it and Forget it" if that is what you would like to do.
Some annuity owners do that, and some don't. Some owners don't want to be bothered with those financial decisions in retirement of making strategy allocation changes in their accounts, and some do. After experiencing a few years of their annuity, many annuity retirees decide a phone call for their annual meeting is all they want. They have other things on their mind. They are enjoying the peace of mind of not worrying about any losses from market downturns because there are none with Fixed Indexed Annuities (FIAs).  I love Fixed Indexed Annuities.
Peace of mind is what people want, especially in these times of politics and unrest.