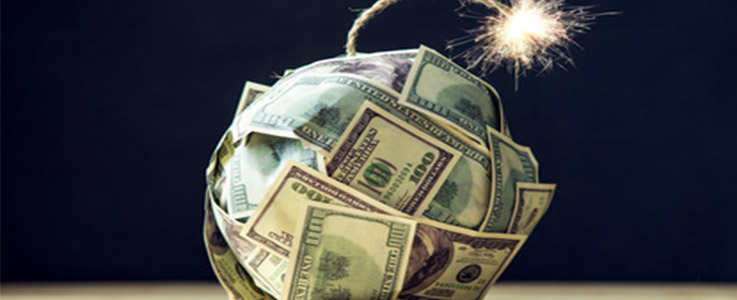 Did you DO something? Make a bad choice? A poor Decision?
Surely you did SOMETHING to cause your mutual funds, stocks, or 401K to lose value!
As I write this, the market has dropped over 1000 points. Why? Something out of our control happened: the Corona Virus became a pandemic. You didn't have anything to do with that, right? It's one thing to lose money because you tried to "time" the market and failed or because you listened to recommendations from your Broker and bought something that his "crystal ball" failed to warn him about. We feel helpless when we lose due to things we had no control over.
Now, if you're young and still earning a paycheck, with many years ahead of earning potential, your risk to the market is low. In fact, my recommendation to young investors is to take measured risks. But if you are IN or NEAR RETIREMENT, a downturn could be disastrous. You might not have the time to RE-EARN those losses; in fact, those "hits" may keep coming.
In the past 100 years, we have seen 20 market corrections; a correction is defined as a 10% drop in the market from recent highs. The most recent correction we experienced was in 2008, which is equal to one correction every five years. If you do the math, 2008 was 12 years ago, predictions we are overdue for another market correction is an understatement. Over the past 12 years, the market has remained high, and when we experience the correction, it will be enormous. Entire fortunes, large and small, will be wiped out.
With many factors affecting the Market uncertainty: Corona Virus, Terrorism, Brexit, Trade Agreements, Iran, and North Korea's nuclear deals, just to name a few that have impacted us within the last five years. Can you plan your retirement without knowing the future?
You can do everything "correct" with your investments. You could feel you have finally found a broker who you can trust, with an excellent track record. You could have made very shrewd investments and had success growing your savings with a soaring market since 2008, even though a sluggish economic recovery and now in a robust economy. You could have been very lucky or very blessed. Now you're close or in retirement, and something you have no control over can derail all you've built up. Think it can't happen to you? That's what "smart" people thought in 1929 and 2008.
If you're retired or close to it, isn't it time to leave the gamble of the market, leave the risk-taking to those who have a low risk with years ahead before retirement.
I'm retired, and my money is safe, guaranteed. I am living off a self-created Pensions where my money will never run out for my family and me. Retirement.
As the old TV commercial said, "This is the Age of Knowing," Not guessing or hoping.