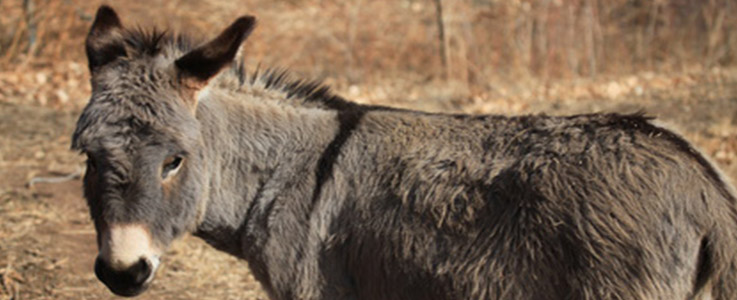 Eddy came to us looking for a place to feel safe, secure, and perhaps even a little love.
A few years ago, we acquired Eddy. Eddy is a miniature donkey who is virtually homeless. He is a little guy who was passed around from one house (broker-dealer) to another. No one cared much about him; he was just a little guy, with not enough assets to interest most brokers. He was mostly kept in an enclosure with an electric fence which meant that if he tried to wander too far astray, he would get bit by the wall. It reminded me of the broker-dealers we run up against when we are small potatoes; so to speak, we are only necessary when we wish to leave them.
Being in this enclosure also meant he was vulnerable to predators. That is that animals such as dogs could quickly go under the fence and attack him, much like the market downturns we experience that always manage to take a little bit (sometimes more than a little) out of us. Plus, the broker-dealers depended on the fees and expenses they charged Eddy, money that came directly from his feed trough to theirs.
Eddy came to us looking for a place to feel safe, secure, and perhaps even a little love. We thought we had the perfect solution for Eddy, a lovely large paddock that was safe, predator-proof, secure, and with no electric fence and other equines nearby.
Now Eddy took a different view as he had never been exposed to this situation. His experience had always been exposure and risk; did he have any other choices?
He was very reluctant to enter the safety of the paddock at first. He would come up to the entrance and stop, this was new and different, and he was not sure he was comfortable with this unfamiliar environment.
It would take a little time to adjust to the safety and security of his new home; finally, after assuring Eddy that he would be safe and secure in his new home by walking him around inside and showing him all the advantages that the new home provided, safety, security, fresh food regularly and clean fresh water. He quickly adapted to his new home and had grown to appreciate our patience in showing him all of the advantages of his new home.
Now he flat refuses to leave!
He loves all the attention he gets regularly and is looking forward to a long and happy retirement. A retirement free from predictors, market risk, and fees.
The situation that Eddy found himself in is precisely what many retirees and soon-to-be also retired experience. Where to go for help that doesn't involve market risk.  Many brokers and planners insist on blends of assets that they feel will produce an adequate return but are exposed to market risk.  They seem to forget that all Eddy wants is safety, security, and a lifetime income stream.
Eddy wants to feel safe in his world, just like everyone else. Eddy knows that income that cannot ever be outlived is less stressful, more meaningful, and accomplishes the goal of a steady re-occurring income.
Maybe it is time for you to discover what Eddy discovered; he learned about the benefits of annuities and how they can provide guaranteed income without market risk.
P.S. Eddy does seem to enjoy putting on the harness now and then and taking the grandkids for a ride now and then in the cart. You know how grandparents are.