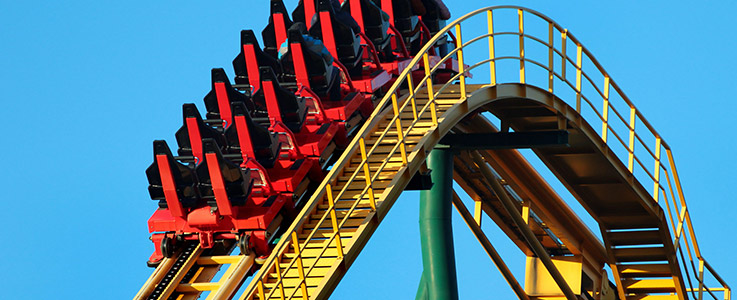 Fixed Indexed Annuities Stay Focused On The Ball
Fixed Indexed Annuities Stay Focused On The Ball While Riding The Market Roller Coaster During These Uncertain Times
Our year 2020 is turning out to be a real Doozy (a nail-biter) due to the Covid-19 virus and this historic election year as our economy is reopening and then is slowed or stalled and pushed forward again by those local and state government officials in charge. There is a mixture of political and medical views, as well as business and personal views from all over the nation. All of these issues are mixed into the pot of our US Market. Add in a multitude of the news; "real news and fake news," "truth and untruth," politicians looking for an opening to squeeze in a sound bite for their cause; and you get a "roller coaster effect" across our great land and into our stock market. When these happen, many times, the fear of the unknown, sometimes prevails and decisions are made quickly without enough consideration of consequences.
Fixed Indexed Annuities stay focused on the Ball. That's the way they are designed to do it. You can't lose any money due to market downturns. The roller coaster of market ups and downs, great and small don't affect the reality of what an FIA is designed to do; protection from market downturns and earning a reasonable rate of return, and guaranteeing a lifetime of income that you can't outlive. Those FIA's with an income rider produce guaranteed rates of return no matter what the outcome of the market. This is excellent news and the reason everyone with a Fixed Indexed Annuity can be happy and get great sleep at night. In our industry, this is called sleep insurance.
Folks who have made a choice to depend on a Fixed Indexed Annuity, like me, love them and consider it their best option for their retirement funds. Fixed Indexed Annuities provide interest based on the performance of the stock market when it goes up, but never lose during market downturns. I love Fixed Indexed Annuities and believe you will too.